Los Angeles Lakers center Andrew Bynum congratulated Dallas Mavericks guard J.J. Barea on his performance in Game 1 of the Western Conference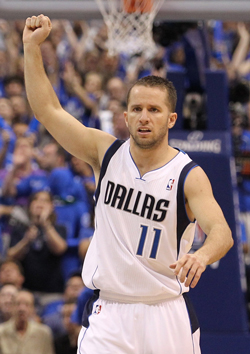 finals. Posted by Ben Golliver.
The most memorable moment of the 2011 NBA playoffs so far has been either Miami
Heat
forward
LeBron James
kneeling to stop and celebrate a second round series victory or Los Angeles Lakers center Andrew Bynum absolutely decking J.J. Barea in the
dirtiest play in recent memory
.
Bynum
finally apologized
and then was
fined and suspended
. We all thought that was the end of it. Not so.
On Tuesday night, the Dallas Mavericks defeated the Oklahoma City
Thunder
121-112 in Game 1 of the Western Conference finals thanks in part to 21 points off the bench from Barea.
Following the game, Bynum
took to Twitter
to shout out some congratulations to his hit victim: "JJ Barea has a great story, worked his butt off and now killing on the big stage! Congrats you deserve it!"
Barea was once again masterful off the dribble, breaking down Oklahoma City's defense and living in the paint.
It's funny how perspective can so radically alter someone's opinion. When Barea is bearing down on you, twisting and turning towards the hoop, he's one of the most annoying and frustrating things in the entire world. But when he's doing it to someone else? Hey, it's a "great story" that we can all sit back and enjoy.
Here's video of Bynum's hit again in case you missed it.