Minnesota Timberwolves president David Kahn apparently insinuates that the NBA Draft Lottery is rigged. Posted by Ben Golliver.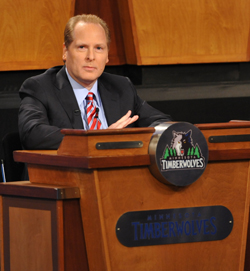 Update
:
Here's video of Kahn's comments
.
For years -- no, decades -- basketball observers have had suspicions about the NBA Draft Lottery. The process is hidden, ping pong balls are involved, and there are a bunch of hurt feelings because 13 of the teams present go home without the No. 1 pick.
Speculation about the lottery being rigged has always been a favorite custom of fans, but it's not something you ever hear spoken about, or even implied, by NBA executives. Until now.
Minnesota Timberwolves president David Kahn apparently implied in
an interview with the Associated Press
that the NBA's lottery process is not totally on the up and up.
Kahn's comments came after he joined Utah
Jazz
GM Kevin O'Connor and Nick Gilbert, the son of Cleveland
Cavaliers
owner Dan Gilbert, as the three finalists for the No. 1 pick. Nick Gibert suffers from a nerve disorder and eventually
secured the No. 1 pick
for the Cavaliers.
"This league has a habit, and I am just going to say habit, of producing some pretty incredible story lines," Kahn said. "Last year it was Abe Pollin's widow and this year it was a 14-year-old boy and the only thing we have in common is we have both been bar mitzvahed. We were done. I told Kevin: 'We're toast.' This is not happening for us and I was right."
A "habit" of producing incredible storylines implies that it's not intentional or manipulated but simply the product of a track record. But the disclaimer "I am just going to say habit" screams "I am really, really bitter because this was totally fixed so that the kid would win."
Either this was the clumsiest language of all time or a crystal clear implication. I don't see any other interpretations. Surely, a clarification is coming. (Not to mention an apology for referring to a child with a nerve disorder and a widow as "storylines".)
Even the implication of impropriety is sure to rub NBA commissioner David Stern the wrong way and this isn't Kahn's first time getting on Stern's bad side. Kahn was
fined $50,000 last July for comments
made regarding Timberwolves forward
Michael Beasley
's marijuana use. A fine here wouldn't be out of the question considering what's at stake for the league: its reputation.
Here's CBSSports.com video of Nick Gilbert winning the NBA Draft Lottery.