The NBA Lottery was held Tuesday night. The Cleveland Cavaliers landed the No.1 overall spot. Here's a first take mock draft reflecting the lottery results. This mock draft is by Ben Golliver, EOB Blogger.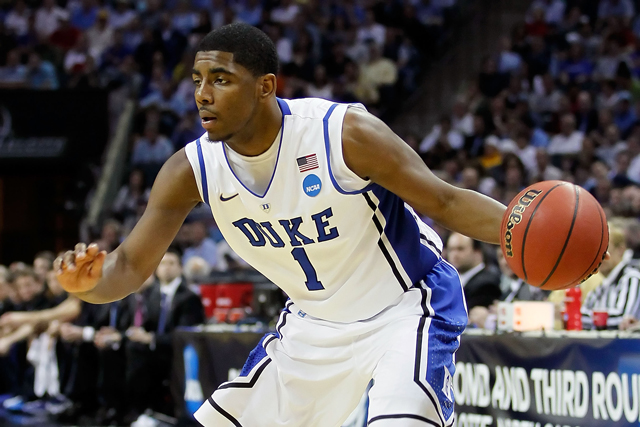 1. Cleveland Cavaliers – Kyrie Irving:
A mature, talented point guard with good size and a solid offensive game. He makes his teammates better, and that's exactly what Cleveland needs.
2. Minnesota Timberwolves -- Derrick Williams
: After failing to win more than 24 games in the last four seasons, star potential is at a premium. Williams' ability to play on the perimeter should complement
Kevin Love
nicely.
3. Utah Jazz – Brandon Knight:
The Jazz, like just about everyone, can use a point guard of the future. Knight, a scorer and playmaker with excellent upside, fits the bill.
4. Cleveland Cavaliers – Bismack Biyombo:
This might raise some eyebrows, but the Cavaliers need a ready-right-now, physical specimen like Biyombo and can afford a bit of a risk with Irving already in hand.
5. Toronto Raptors – Enes Kanter:
The Raptors know full well that
Andrea Bargnani
needs a wide-bodied low-post presence to play next to him, and Kanter is the best bet.
6. Washington Wizards -- Kawhi Leonard:
The Wizards need help at positions 2-4 and Leonard's energy and athleticism will fill the gaping lineup hole between franchise point guard
John Wall
and developing big man
JaVale McGee
.
7. Sacramento Kings – Kemba Walker:
Tyreke Evans is probably better as a two long-term. The Kings would probably prefer Knight, but Walker is an excellent consolation prize and yet another exciting puzzle piece on a roster full of them.
8. Detroit Pistons – Jonas Valanciunas:
Does Joe Dumars dare go dipping back into the European well? If so, Valanciunas could make a nice post pairing with All-Rookie snub
Greg Monroe
.
9. Charlotte Bobcats – Tristan Thompson:
Thompson doesn't have the inside-out versatility to replace
Gerald Wallace
but he does bring elite physicality and excellent defensive tools.
10. Milwaukee Bucks – Alec Burks:
The Bucks need a floor-spacer to pair with
Brandon Jennings
and Burks fits that bill.
11. Golden State Warriors – Jan Vesely:
Whether Vesely is truly a small forward remains an open question, but he's long and has highlight film potential. If the Warriors stick with their push-the-pace mentality under a new coach, he could be a fit.
12. Utah Jazz – Donatas Motiejunas:
If the Jazz opt for a guard with their top selection, they can do worse than Motiejunas, who once drew "poor man's Dirk" comparisons. His ceiling has come down a bit, but he can score and has excellent vision.
13. Phoenix Suns – Marcus Morris:
The Suns have a lot of mismatched pieces in the frontcourt, but
Steve Nash
can always use a power forward that can play both inside and out and has some offensive game.
14. Houston Rockets – Jordan Hamilton:
There's no
Yao Ming
at No. 1 this year, let alone No. 14, so the Rockets look to mine the undervalued asset route, snagging a wing scorer who has had a rocky road to the NBA.
15. Indiana Pacers – Klay Thompson:
Paul George has been a revelation but another knockdown shooter in the backcourt wouldn't hurt.
16. Philadelphia 76ers – Markieff Morris:
When in doubt, add a talented big man to the frontcourt. The Sixers have some contract decisions to make after next season.
17. New York Knicks – Chris Singleton:
The Knicks will look to address their hole in the middle via free agency but Singleton adds much needed defensive intensity to the wings.
18. Washington Wizards – Kenneth Faried:
A bottom five rebounding team, Washington would do well to grab this group's most obvious board-cleaning specialist.
19. Charlotte Bobcats – Nolan Smith:
Best available ACC player on the board. Plus the Bobcats need a point guard.
20. Minnesota Timberwolves -- Jimmer Fredette:
Maybe the most David Kahn pick of all time.
21. Portland Trail Blazers – Davis Bertans:
The Blazers are at a roster crossroads and need to replenish their coffers after a bunch of consolidation trades. Bertans is a long, versatile forward, can shoot the rock and could be a nice future asset.
22. Denver Nuggets – Tobias Harris:
With
Carmelo Anthony
gone, there's a pothole at the three. Harris can't fill it, not even close, but he can get buckets.
23. Houston Rockets – Lucas Nogueira:
Daryl Morey has said that sometimes you need to swing for the fences in the draft. Nogueira is rail-thin but has such incredible height and length that he can nearly dunk while standing on his tiptoes.
24. Oklahoma City Thunder – Nikola Mirotic:
With a beautifully constructed rotation, the Thunder have the luxury of snapping up the best available European without worrying about the contract situation that could keep him overseas for awhile.
25. Boston Celtics – Trey Thompkins:
With
Glen Davis
likely headed out in free agency, Thompkins can plug the "needs to be in better shape, can surprise you every once in awhile" hole.
26. Dallas Mavericks – Josh Selby:
The Mavericks need to add to their aging backcourt and the undersized scoring two guard has been a productive staple for Dallas for years. Could make an electric pair with Rodrigue Beaubois someday.
27. New Jersey Nets – Tyler Honeycutt:
Travis Outlaw has been kind of a disaster and the Nets' small forward was one of the worst positions in the entire NBA. Honeycutt probably isn't a long-term answer but the pickings are slim.
28. Chicago Bulls – Travis Leslie:
The Bulls really need a floor-spacing shooter at the two spot, but would settle for the remarkable athlete who would make the "Bench Mob" that much scarier.
29. San Antonio Spurs – Kyle Singler:
Incredibly intelligent, competitive forward who would kill to have the opportunity to play for Gregg Popovich.
30. Chicago Bulls – Marshon Brooks:
Another off-the-dribble threat for the Bulls. Maybe he can prove to be the shooter they need but, if not, there are other elements to his game.