The NBA Lottery was held Tuesday night, with the Cleveland Cavliers landing the No.1 overall spot, and the UtahJazz moving up to the No. 3 position. Here's our immediate mock draft reflecting the lottery results. This mock draft is by Dave Del Grande, EOB Blogger. Posted by Dave Del Grande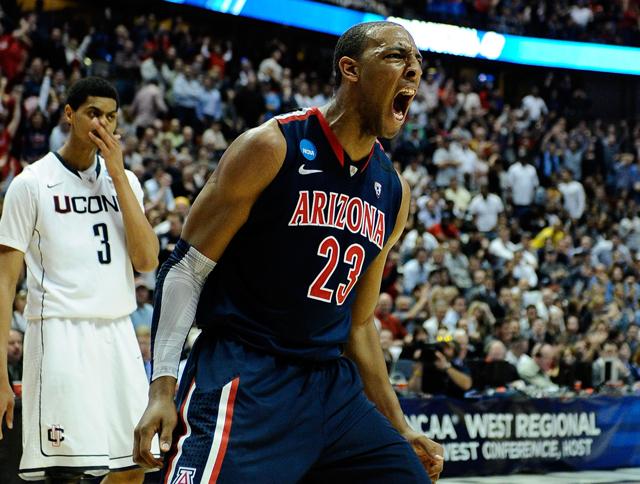 Where's Jared Sullinger when you need him?
The Cleveland
Cavaliers
could sure use the homegrown Ohio State standout, much as they parlayed fellow Buckeye State native
LeBron James
into seven memorable seasons earlier this decade.
Alas, Sullinger has decided to return to Ohio State for his sophomore season, no doubt believing he'd be surrounding himself with better talent than the Cavs had on display this past season.
But now with the first and fourth picks of the 2011 draft, that could be about to change.
So what do the Cavs do with the top pick? The good news is: They could use a little of everything. OK, maybe a lot of everything.
The next James could be nice. Heck, even the next
Kevin Durant
.
That guy probably doesn't exist in the 2011 draft crop. But surely the prospect who comes closest to fitting the mold is Arizona swingman Derrick Williams.
You might have seen the two-year collegian play, but chances are you've never noticed his height and weight: 6-foot-8, 241 pounds. Hmmm … very James-like.
Whether he's got the feet to fit into those big shoes is another matter.
Here's my first mock projection of the 2011 NBA Draft.

1. Cleveland Cavaliers (from L.A. Clippers) -- Derrick Williams, SF, Arizona.
If they'd known dealing
Mo Williams
was going to bring them the No. 1 pick in the draft, they'd have done it a lot earlier. Chances are, this Williams will have a far greater impact.
2. Minnesota Timberwolves -- Kyrie Irving, PG, Duke.
Falling out of the No. 1 spot isn't a big deal for the Timberwolves. In fact, they'd probably like to see Irving go first, because, truth be told, they've drafted enough point guards in recent years.
3. Utah Jazz (from New Jersey) -- Enes Kanter, C, Kentucky.
Don't be surprised if the Jazz attempt to package their picks to move up, because the dropoff from 2 to 3 in this year's available talent is sizable. No doubt, Utah has its eyes on a certain BYU little guy at No. 12, so a big man is the obvious choice here.
4. Cleveland Cavaliers -- Brandon Knight, PG, Kentucky.
The best thing about being the least talented team in the league is it makes draft night easy. You simply take the best available athlete that doesn't duplicate the guy you've already selected.
5. Toronto Raptors -- Kemba Walker, PG, Connecticut.
Several international prospects are projected in the Top 10, but the Raptors are already overloaded with them. The Big East Conference standout will give American fans in the Northeast a reason to cross the border.
6. Washington Wizards-- Jan Vesely, C, Czech Republic.
Yes, it's early, but here is where the 2011 draft becomes a bit anonymous. The Wizards need a big man, and arguably the best three available at this point are foreigners. Roll the international tapes.
7. Sacramento Kings -- Jimmer Fredette PG, BYU.
Saved by the bell at the end of the 2010-11 season, the Kings' franchise desperately needs a ticket-seller more than any in the league. Few have fascinated the masses more than Fredette this past season.
8. Detroit Pistons -- Donatas Motiejunas, C, Lithuania.
Here's another candidate to move up, dangling at least one of their underachieving, highly-paid talents. Yeah, that's more likely to move them down than up, but given the early run on their position of need (point guard), the Pistons have to try something.
9. Charlotte Bobcats -- Kawhi Leonard, SF, San Diego State.
The Bobcats would love to discover a reincarnation of a young
Gerald Wallace
. They might have had to win the lottery to accomplish that feat, but at least Leonard is better than what they have.
10. Milwaukee Bucks -- Bismark Biyembo, PF, Spain.
The Bucks believe they're ready to win now, so they're looking for experience. Biyembo is a far greater talent than the best remaining collegiate senior.
11. Golden State Warriors -- Jonas Valanciunas, PF, Lithuania.
You might recall the last Lithuanian the Warriors drafted – Sarunas Marciulionis. That worked out well. This could, too, as he would address the club's greatest need.
12. Utah Jazz -- Alec Burks, SG, Colorado.
If they knew Fredette would be done by 12, I wouldn't put it past the Jazz to take him at No. 3. That said, Burks might be a better fit for what the club needs – a deadly long-range shooter who can actually defend a bit.
13. Phoenix Suns -- Klay Thompson, SG, Washington State.
Dealing
Jason Richardson
for
Vince Carter
was a mistake, so the goal here is finding a Richardson facsimile. Remarkably, Thompson looks the part.
14. Houston Rockets -- Marcus Morris, PF, Kansas.
The Rockets have to be careful here. Their chief need is a center if
Yao Ming
doesn't return. But if they draft a center, then maybe they'd be giving the big guy a reason not to come back. Morris can be sold as a sidekick.
15. Indiana Pacers -- Tristan Thompson, PF, Texas.
The early run on point guards helps some talented power forwards slip through the lottery. You won't hear the Pacers complaining.
16. Philadelphia 76ers -- Markief Morris, PF, Kansas.
The 76ers need someone more like
Samuel Dalembert
, but he doesn't exist this low in the draft. So taking the most defensive minded power forward has to suffice.
17. New York Knicks -- Chris Singleton, PF, Florida State.
The Knicks are another team desperate for a defensive presence in the middle. Maybe Singleton can turn into a
Tyson Chandler
type. Then again, maybe not.
18. Washington Wizards (from Atlanta) -- Jordan Hamilton, SF, Texas.
The run on big men in the middle of the round helps convince the Wizards going big early on was a wise choice. The slick Hamilton has a lot more potential here than someone taller.
19. Charlotte Bobcats (from New Orleans) -- Nolan Smith, PG, Duke.
Neither of the remaining Duke prospects is Kyrie Irving, who would be the answer to the
Hornets
' dreams. Smith makes a lot more sense as a hometown selection at this point than Kyle Singler.
20. Minnesota Timberwolves (from Memphis) -- Tobias Harris, SF, Tennessee.
Recent history warns us the Timberwolves are more likely to draft a point guard here now that they've just taken another. But this time around, brighter minds should prevail.
21. Portland Trail Blazers -- Tyler Honeycutt, SF, UCLA.
The freshman has the potential to be taken a lot higher, but he doesn't have the size most of the teams immediately north of the Trail Blazers in the draft covet. So Portland gets a nice value here.
22. Denver Nuggets-- Jordan Williams, C, Maryland.
The run on foreign big men who'll never come to America is about to start, but unlike many of the teams in the high-rent district, the Nuggets actually need a center who can play.
23. Houston Rockets (from Orlando) -- Lucas Riva Nogueira, C, Brazil.
Luis Scola
might be a South American rival on the international trail, but they'd make a nice side-by-side tandem on any court. Of course, the Brazilian will be Yao's backup (wink, wink).
24. Oklahoma City Thunder -- Reggie Jackson, PG, Boston College.
The
Mavericks
are said to have a big depth advantage over the Thunder in the Western finals. This selection helps Oklahoma City close that gap.
25. Boston Celtics--Davis Bertans, SF, Slovenia.
Replacing
Kendrick Perkins
is the club's top priority. The slender European isn't exactly the guy, but at least he's tall.
26. Dallas Mavericks-- Kyle Singler, SF, Duke.
The Mavericks are as deep as any team in the league, so it's unlikely anyone taken at this point will crack the rotation. But rest assured the hard-working Singler will give it a go.
27. New Jersey Nets (from L.A. Lakers) --JaJuan Johnson, PF, Purdue.
It's going to sting watching the Jazz use the Nets' pick to take the third-best talent in the draft. But this Big Ten standout has a chance to contribute right away nonetheless.
28. Chicago Bulls (from Miami) --Kenneth Faried, PF, Morehead State.
Most teams consider low first-rounders as the worst picks in the draft because of their two-year guarantees. The only thing worse is having two of them.
29. San Antonio Spurs --Trey Thompkins, PF, Georgia.
Life could be worse than making a seven-figure guaranteed salary to learn the NBA game from
Tim Duncan
. It's worked well so far for
DeJuan Blair
.
30. Chicago Bulls --Nikola Mirotic, PF, Serbia.
It's best-available-athlete-who's-least-likely-to-cross-the-p
ond time. At least it'll give Mirotic a rooting interest next spring.