The NBA Lottery was held Tuesday night, with the Cleveland Cavliers landing the No.1 overall spot, and the Utah Jazz moving up to the No. 3 position. Here's our immediate mock draft reflecting the lottery results. This mock draft is by Matt Moore, EOB Blogger. Posted by Matt Moore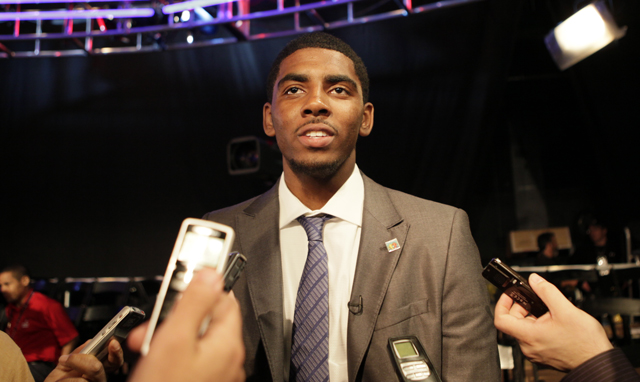 1. Cleveland Cavaliers -- Kyrie Irving:
The Cavs have to start over and just got a chance to do that. Irving is the consensus best player in the draft. Young, explosive, with an actual jumper, Irving's only questions is a toe injury that he returned from to dominate the NCAA tournament. He'll make for a great building block. The only question now: "Who's dumb enough to take
Baron Davis
off our hands?"
2. Minnesota Timberwolves -- Derrick Williams.
The small-ball lineups for the Wolves next year with Williams at PF and Love at C are going to be awesome. Wes Johnson may spend more time at the 2 with Williams on board. If David Kahn can connive
Ricky Rubio
to come over, the Wolves are going to improve, finally. If Kahn doesn't screw this up.
3. Utah Jazz -- Brandon Knight.
Knight's going to play in combo sets with
Devin Harris
. If he develops into a better PG, great, they can move Devin Harris. If he doesn't, he'll be an undersized SG, but still a legit scoring threat.
4. Cleveland Cavaliers -- Jonas Valanciunas.
You've got the PG, get the big man. Valanciunas is the lone Euro big in this draft who really impresses on the glass and off the pick and roll. 6-11, 240, he and Kyrie can set a new tone in Cleveland.
5. Toronto Raptors -- Jan Vesely.
6-11 forward with aggression. He's a Euro, which is going to mean Colangelo catching flak, but he's the best option. DeRozan slides to the 2 and Vesely's aggression gives the Raptors some much needed attitude.
6. Washington Wizards -- Kawhi Leonard.
Kemba Walker's too small to pair with Wall, and the Euro bigs don't help with
JaVale McGee
and Blatch on roster. Leonard gives the Wizards a talented all-around SF to build around with Wall.
7. Sacramento Kings -- Kemba Walker.
Well, the Kings have great size in the backcourt already with
Tyreke Evans
and
Marcus Thornton
. Kemba Walker's not a great fit. He's small, a scorer, and could be a defensive liability. But he's Best Player Available, and the Kings don't have time for a project center.
8. Detroit Pistons -- Enes Kanter.
Twin towers with Monroe. 'Nuff said.
9. Charlotte Bobcats -- Donatas Motiejunas.
Well the Bobcats' future isn't super bright, so they can afford a project. Motiejunas isn't a great rebounder, but with
Tyrus Thomas
, maybe he doesn't have to be. Having a versatile low-post big man will help them, provided Jordan doesn't Kwame him.
10. Milwaukee Bucks -- Alec Burks.
Bucks need scoring. Burks is a pure scorer. Happily ever after.
11. Golden State Warriors -- Bismack Biyombo.
A project for a team with a long-term vision. Incredible physical tools and some explosiveness. Right system, Biyombo's a star. Wrong system, he's a bust.
12. Utah Jazz -- Marcus Morris.
A terrible spot for Utah with all the raw size off the board. Morris allows for a trade of Millsap or Jefferson if they don't move the pick itself.
13. Phoenix Suns -- Tobias Harris.
Versatility is the Suns' game. Harris' biggest liability is defense. The Suns don't defend much. Convenient.
14. Houston Rockets -- Tristan Thompson.
Rough spot for the Rockets as well. Thompson is high-upside, and the Rockets can hope that he can play in some versatile lineups.
15. Indiana Pacers -- Josh Selby.
Hey, you can't swing and miss on every Kansas shooting guard, right? Selby's a reach here, but his impressive workouts at Impact in Las Vegas could push him here.
16. Philadelphia 76ers -- Lucas Nogueira.
7-0, high upside. The Sixers can afford to take a project with the core they have. Nogueira could replace Hawes by end of season if things go right, or be the long-term solution.
17. New York Knicks -- Jimmer Fredette.
Big name star, explosive scorer, defensive issues limited by system (or exaggerated if you will). Fredette's an easy one here.
18. Washington Wizards -- Kenneth Faried.
The Anti-Blatche.
19. Charlotte Bobcats -- Klay Thompson.
Can spell Tyrus Thomas when he inevitably gets in foul trouble.
20. Minnesota Timberwolves -- Chris Singleton.
Best player available for the Wolves.
21. Portland Trail Blazers -- Reggie Jackson.
Nate McMillan says the backcourt must change. It starts here.
22. Denver Nuggets -- Jordan Hamilton.
Hamilton falls among all the small forwards, and the Nuggets swoop him up with some big free agent questions lingering for them.
23. Houston Rockets -- Tyler Honeycutt.
A solid player to work off-ball with
Kyle Lowry
and
Kevin Martin
. BPA theorem in effect (Best Player Available).
24. Oklahoma City Thunder -- Davis Bertans.
High upside player falls to the Thunder. Perimeter scoring and good size. A Euro replacement for
Jeff Green
.
25. Boston Celtics -- Charles Jenkins.
A versatile perimeter threat with handle, could provide the bench scoring that was so badly missing this year.
26. Dallas Mavericks -- Travis Leslie.
Mavericks need wings. The end.
27. New Jersey Nets -- Kyle Singler.
A high energy guy with touch to pair with
Brook Lopez
and never get any rebounds ever.
28. Chicago Bulls -- Nolan Smith.
The Bulls need shooters. Smith's the closest thing to it at this point.
29. San Antonio Spurs -- Keith Benson.
Anyone who rebounds will do here.
30. Chicago Bulls -- Darius Morris.
Hey, they're loaded at every other position. Why not?