Portland Trail Blazers coach Nate McMillan says his team has a lot of questions to address, starting with the backcourt. Posted by Ben Golliver.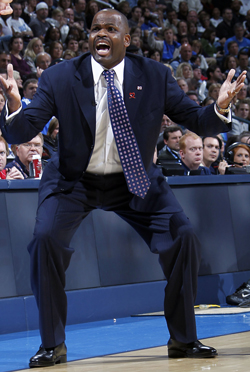 The Portland Trail Blazers were bounced out of the NBA playoffs in the first round for the third year in a row, and coach Nate McMillan sounds like he is ready for something to change. Scratch that, a lot of things.
In
an interview with Blazers Courtside
on Monday night, McMillan said that his team has "a lot of questions that we have to answer" this offseason. His top priority? A backcourt shake-up.
"The first thing is to balance the roster. The combination of the twos that we have -- with Wesley [Matthews], Rudy [Fernandez] and Brandon [Roy] -- that combination is just... really... there's no way we can play the three of those guys.

"Our backup point guard, our guard position. I played Brandon at that spot most of the second half of the season. We've got to look at the point guard position."
McMillan also said that oft-injured center
Greg Oden
remains a question mark. "When will he be ready to go next season?" He wondered aloud.
His comment about the two guard spot is perhaps the most intriguing for two reasons. First, because Matthews was just signed to a five-year contract last summer and is the type of intense, two-way player that McMillan loves. He's also been mentioned as part of the team's core going forward. Second, because Roy is essentially untradeable because of the deteriorating condition of his knees.
Obviously, that leaves Fernandez as the odd man out. Fernandez is entering the fourth year of his rookie deal next season, set to make $2.2 million. While a fan favorite, Fernandez has been plagued by inconsistency and was virtually invisible in the playoffs, averaging just 2.8 points and 2.0 rebounds in the first round series against the Dallas
Mavericks
. Could Fernandez be headed out of Portland?
Whether it's Fernandez or someone else, McMillan noted that change could come as soon as draft night. "All of those things we will have to look at here before the draft and ... if it is possible to make some moves to improve the team, we've certainly got to do that."