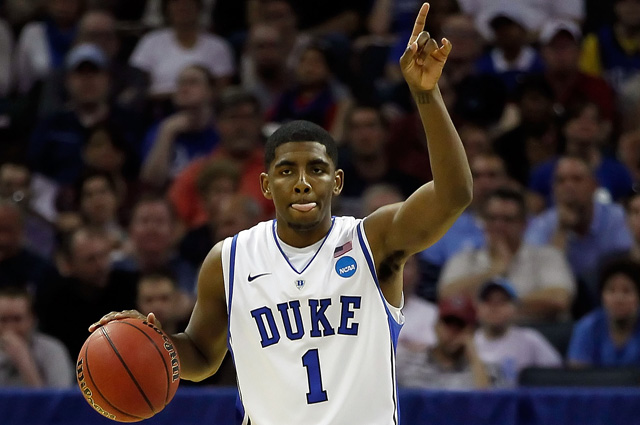 The NBA Draft Lottery will be held Tuesday night and as always, the ramifications of the event could dramatically alter the future of one or more franchises. Don't believe? Consider that the
Bulls
were huge underdogs to land MVP
Derrick Rose
. Even in a draft many consider weak, the lottery changes the course of a franchise's history with a simple combination of ping pong balls.
Before we know who's going to be in the top spot for "The Kyrie Lottery," we ran one more mock draft with Matt Moore and Ben Golliver from Eye on Basketball and Matt Norlander from
CBSSports.com's College Basketball Blog
. Here's how things look from our perspective before the lottery balls shake everything up.
1. Minnesota Timberwolves -- Kyrie Irving.
Eventually, probably in a dark, empty room, Timberwolves president David Kahn will admit to himself that
Ricky Rubio
isn't coming to the NBA next season and that point guard remains the most glaring weakness on his abysmal roster. Everything we've seen in Round One of the NBA Playoffs reinforces a point guard's transformative power in today's game.
Rajon Rondo
. Derrick Rose. And, most importantly for teams at the top of the lottery list like the Timberwolves,
Chris Paul
. In
David West
's absence, Paul has carried a talent-deficient roster to two victories against the defending champion Los Angeles
Lakers
, dishing out dozens of assists and getting his points when needed. Duke point guard Kyrie Irving might not be Paul but he's really, really good, a can't-miss, multi-dimensional offensive threat who works hard, exhibits leadership qualities and has an excellent understanding of the game. If Paul can carry a debt-ridden, league-owned on the verge of contraction into Staples and come out with a victory, surely Irving can be the guy who eventually gets the Timberwolves to the playoffs for the first time since 2003-2004. Irving simply makes everyone else better, and lord knows Minnesota's roster can put that skill to good use.
2. Cleveland Cavaliers -- Derrick Williams.
The Cavaliers talent. Any talent they can get. Whatever talent they can find. And Williams is clearly the best talent on the board in a phenomenally weak draft. It would be better to build with Kyrie Irving, but in the 2 spot, Derrick Williams isn't a bad consolation price. Let's just hope no one freaks about the uber-athletic 6-8 combo forward coming in. Awk-ward.
3. Toronto Raptors -- Enes Kanter.
The Turkish center will probably adapt more to the 4, but he's got incredible talent. Because he received money that was seen as more than the bare minimum while playing pro ball overseas, the NCAA never let him play with Kentucky. But those who have seen him work out rave about his collection of already-honed skills. Lack of competitive game play in the past year is a little disconcerting, but Kanter's seen as a once-every-five-years type of big man with the multitude of weapons he has.
4. Washington Wizards -- Jonas Valanciunas.
The Wizards' reported interest in Kanter leaves them a bit crushed at the Raptors' decision, but they switch to Plan B: Best available big. Washington was a bottom five rebounding team despite promising center
JaVale McGee
so filling out the frontcourt depth is a primary concern. Picking the Lithuanian big man -- who has good touch around the rim and NBA size -- is a fairly easy decision as the other elite prospects are mostly point guards who would serve no purpose with
John Wall
installed as the face of the franchise.
5. Sacramento Kings -- Brandon Knight.
Kyrie Irving would fit so awesomely in with the Kings 1-2-3 combo with
Marcus Thornton
and
Tyreke Evans
, but Brandon Knight's not a bad alternative. Knight showed a lot more versatility and polish in the Wildcats' NCAA tournament run than he had in conference play. With a quality jumpshot (rare for point guards entering the league), Knight can work as both the initiator of the offense and an endpoint kickout shooter with Tyreke Evans working as the distributor. The upgrade of
Beno Udrih
to Knight could help the Kings move out of the lottery and rebound from a disappointing year.
6. Utah Jazz- Jan Veseley.
The Jazz can't take a legitimate big, they're stacked with Millsap, Favors and Jefferson. They can't take a point guard, they've got
Devin Harris
and after Knight the drop off is significant. Veseley has crazy athleticism, he's like a more explosive Kirilenko and could wind up with the same kind of stat-stuffing abilities while he learns behind the dragon-backed veteran, expected to re-sign in free agency. Veseley has some exciting highlight reels and his aggression to the basket is almost, dare we say, American.
7. Detroit Pistons -- Kemba Walker.
Well, Mighty Mouse has to go sometime. The best/second-best player in college basketball season goes to Joe Dumars finally giving him the impetus to trade Rip Hamilton now that he has ownership to approve such a move. An explosive scorer who's going to be a defensive liability due to his size won't be able to be on the floor with
Will Bynum
but could also allow the Pistons to let
Rodney Stuckey
get away if he shows better passing ability than expected at the pro level. A good start to cleaning house is drafting a recognizable star, and Walker's nothing if not that.
8. Cleveland Cavaliers -- Bismack Biyombo.
With the top three point guards off the board, Cleveland adds to its frontcourt by selecting Bismack Biyombo, the Congolese sensation who took the Nike Hoop Summit by storm. Biyombo plugs in as ready to play from day one as a defensive specialist. There should be plenty of minutes available to get to work on refining his phenomenally athletic but raw game.
9. Charlotte Bobcats -- Kawhi Leonard.
Gerald Wallace
is gone. Alec Burks is going to be incredibly tempting for Jordan to take here, but
Gerald Henderson
's late season promise makes it just a little too difficult. A 2-3-4 lineup of Henderson-Leonard-Thomas makes for a good mix of athleticism, polish, and versatility, varying on the spectrum, with Leonard in the middle. It's a rebuilding....er.... decade for the Bobcats, and it's more important for them to take the obvious picks rather than gamble on one of the bajillion Euro bigs available.
10. Milwaukee Bucks -- Tristan Thompson.
Fear the Deer. Has it already been a year since the Bucks were in the playoffs? Anyway, with Thompson, he's the prototype of Potential, Long NBA Prospect. Thompson lacks a fire, but he's got so much room to grow, has massive hands and will be a valuable Gumby for the Bucks -- and about 20 other NBA teams that'd love to have someone with his frame and 14 years of future. Beyond anything, Thompson has to go here because there's no way he slips below the 10 line. No way
11.Golden State Warriors -- Alec Burks.
With questions about the long-term pairing of
Stephen Curry
and
Monta Ellis
, the Warriors opt to draft a potential Ellis replacement in Burks, whose size and skillset add up to that of a more traditional two. Burks can score in just about every conceivable manner and would work as instant offense off the bench should the Warriors decide to ride out the Curry/Ellis pairing for another season.
12. Utah Jazz -- Donatas Motiejunas.
You're probably going to ask me what the difference is between Motiejunas, a 7-foot Euro who shot 46% behind the arc this season, and
Mehmet Okur
, a 7-foot Euro who is known for his perimeter shooting. Well, outside of Motiejunas' superior post-moves, not a whole lot. Motiejunas isn't a rebounding prospect, which is what the Jazz really need. But with the previous pick of Veseley, the Jazz don't need to be gambling on another SF, the good PGs are gone, and Motiejunas is the best available talent. Yes, Jimmer Fredette is there. But we refuse to sink to such a cliche'd level of analysis. (Note: The Jazz will probably take Fredette here.)
13. Phoenix Suns -- Trey Thompkins.
Consider him a project, only you don't need instructions to figure him out. Thompkins has a lot of pure skill that's thawed out over the past year. If he had Kemba Walker's work ethic he'd be drafted in the top five. Thompkins is a 6-10 guy who can hit from 20 feet. You need him to post up? That'll do, too. He can also run the floor well; he certainly had his opportunities on the Georgia fast break here and there. Some may not expect Thompkins to go this high, but he'll likely impress in workouts and play his way into a good pick.
14. Houston Rockets -- Jordan Hamilton.
With no readily available centers to fill their biggest need, the Rockets opt for Jordan Hamilton, a multi-talented wing scorer who might be a bit undervalued after a year away from competitive basketball as a high school senior and an up-and-down two-year career at Texas.
15. Indiana Pacers -- Marcus Morris.
Roy Hibbert
could use an offensively talented big to help on the glass, and
Josh McRoberts
may not be around very long leaving a lack of depth after
Tyler Hansbrough
. Granger works at either forward position, but this would free up the Pacers to move him if they wanted to build around the rest of the core, which would bring in a windfall of talent. If not, Morris can work in a small lineup alongside Granger with
Paul George
. Hey, you can never be too versatile right? This is another spot where Jimmer Fredette's going to be very tempting, but his inability to play the 2-guard spot hurts him; the Pacers don't need another PG.
16. Philadelphia 76ers -- Chris Singleton.
Meet this draft's best defender. We've got a guy here who can be reliable and dominant -- yes, dominant -- in the paint for the next decade. Because of Singleton, Florida State was the best defensive team in the nation the past two seasons. His offensive game doesn't have much to it, but when you've got a player so good on one side of the ball this far into a draft, it's pretty hard to pass up. Experienced, mature and ready to play immediately.
17. New York Knicks -- Jimmer Fredette.
If Fredette lasts to 17 it will be difficult for the Knicks to pass on the New York native, whose range and scoring acumen are an obvious fit for coach Mike D'Antoni's system. With high usage scorers
Amar'e Stoudemire
and
Carmelo Anthony
locked into the starting lineup for years to come, Fredette pencils in as instant offense off the bench.
18. Washington Wizards -- Markieff Morris.
They can viably trade
Andray Blatche
to anyone who will take him. The end Morris is the lesser twin, but could be a solid bench forward to provide rebounding. He and JaVale McGee could make for some entertaining defensive sets. In a bad way, but still.
19. Charlotte Bobcats -- Kenneth Faried.
He's rightfully considered the greatest natural rebounder to come out of college since Dennis Rodman. That stats back it up. Faried, who played at Morehead State, is also a deceptively good shot-blocker. He's transformed his body in the past two seasons and should average 10 grabs in his sleep. The Bobcats could use the beef and nose-to-the-grindstone mentality. Faried will bring that, and there's no question of character here. Charlotte should be so lucky to see him fall to 19.
20. Minnesota Timberwolves -- Klay Thompson.
The Timberwolves have nothing but questions in their backcourt and Thompson is a pure shooter who may be able to develop into more down the road. If the NBA thing doesn't work out, Thompson and Minnesota forward
Michael Beasley
can always star in a 21st century "Cheech and Chong" adaptation
21. Portland Trail Blazers -- Lucas Nogueira.
Marcus Camby
is getting up there. Nogueira is 7-0, 18 years old, a project Brazilian. So just theoretically, if
Greg Oden
were to not work out, hypothetically, the Blazers could develop Noqueira for the long-run while seeing if Oden's ever going to put it together. Insurance policy.
22. Denver Nuggets -- Tobias Harris.
The 6-8 freshman out of Tennessee will play the 3 at the next level. He's a reliable scorer -- only three times last season was he kept in single digits -- and seems to fit Denver's offense-first style. Harris is not a tough player and doesn't have a post game, but he's the type of guy who'll bang 15-footers with deceptive efficiency. He's also able to put it on the floor from that far out. The Nuggets could use his maturity, too. Don't be deceived by his age -- many are impressed with how Harris handles himself.
23. Houston Rockets -- Davis Bertans.
An underrated standout from the 2011 Nike Hoop Summit, this long, versatile forward can shoot the rock and will be a nice future asset.
24. Oklahoma City Thunder -- Kyle Singler.
The Thunder are too likable at this point. Getting a Duke guy will solve that problem (oh, and he's yet another versatile wing to add to their core for depth).
25. Boston Celtics -- Reggie Jackson.
The Celtics go with the local product. Jackson, a junior out of Boston College, is the type of shooter Boston could use to help ease the inevitable transition from the New Big Three era. Probably never going to be a starter in this league, but he's got offense to keep things seamless coming off the bench.
26. Dallas Mavericks -- Josh Selby.
With
Jason Kidd
aging, the Mavericks are willing to take a chance on Selby, who has fallen off a cliff since his days as a top-ranked high school senior. He could be paired with Rodrigue Beaubois to provide a fearsome but undersized future backcourt combination. Dallas is not in a position where it needs to rush his development.
27. New Jersey Nets -- Tyler Honeycutt.
Low-risk, high-upside player with good athleticism who could become explosive if he develops right? Yes, please and thank you, say the Nets. Honeycutt needs to play off the ball, but with as many ball-handlers as the Nets have, that's not a problem.
28. Chicago Bulls -- Travis Leslie.
Is it possible for the Bulls' backcourt to get even more athletic? You bet. Leslie was the college game's best dunker the past two years. He's very good off the ball and even better in transition. If the Bulls want to keep speed and defense the keys to their winning -- aside from that Rose guy -- then Leslie's a great fit, an absolutely great fit.
29. San Antonio Spurs -- Nikola Mirotic.
The Spurs can't resist the intelligent, skilled and versatile Croatian forward. They need help now too but are willing to wait on Mirotic should his deal with Real Madrid keep him overseas in the short-term.
30. Chicago Bulls -- Charles Jenkins.
22 years old? Sure. Undersized at 6-3? Yup. 42 percent 3-point shooter for a team badly in need of them? Absolutely.