Charles Barkley says that every NBA player has played with gay teammates. Posted by Ben Golliver.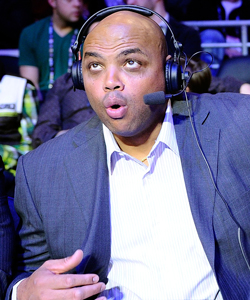 On Sunday, we noted
that Phoenix
Suns
president Rick Welts revealed to the
New York Times
that he is a homosexual, becoming the first prominent male professional sports team executive to do so.
In the article, Welts stated: "This is one of the last industries where the subject is off limits. Nobody's comfortable in engaging in a conversation."
One person who is comfortable engaging in every conversation is TNT broadcaster and NBA Hall of Famer Charles Barkley.
The Washington Post reports
that Barkley says that he played alongside gay players and that he believes the NBA is more ready for a current player to follow Welts' lead and come out than most people think.
"First of all, every player has played with gay guys. It bothers me when I hear these reporters and jocks get on TV and say, 'Oh, no guy can come out in a team sport. These guys would go crazy.' First of all, quit telling me what I think. I'd rather have a gay guy who can play than a straight guy who can't play."

"Any professional athlete who gets on TV or radio and says he never played with a gay guy is a stone-freakin' idiot," Barkley said. "I would even say the same thing in college. Every college player, every pro player in any sport has probably played with a gay person."

Also weary of the perception that a majority of straight male athletes are intensely homophobic, Barkley said gay players pose no problem, adding, "Man, we need to outlaw guys who suck at sports."
Although delivered unconventionally as always, Barkley's point stands. Talent is always going to be the most important determining factor in a highly competitive field like professional sports. That homosexual players have, to this point, chosen the lesser of two evils by remaining anonymous makes sense. That's how it's always been.
But does it feel like we're turning a corner here? Barkley's honesty is important and the support shown to Welts by other media members, including Bill Simmons, helps frame his decision to come forward as an important milestone on a longer path towards acknowledged, public equality.
Does public support for Welts and honest conversation about the life he was living make it easier for a current player to step forward? One would think so.