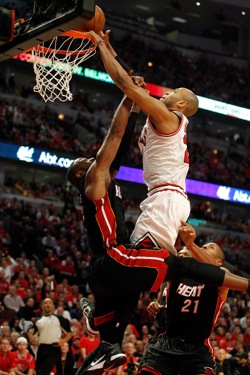 Posted by Royce Young
Some 170,000 people have watched
Taj Gibson
's dunk over
Dwyane Wade
. At least that's just the number of views
there are on the YouTube video of it.
One of them though is not the man that made the highlight. One of them is
not
Taj Gibson.
Gibson joined ESPN Radio Chicago
to talk about the
Bulls
big Game 1 win and of course, his poster of Wade.
On which of his two dunks he liked better:

"I don't really remember them to tell you the truth. It's been a roller-coaster ride. I'm just happy we got the win."

So he's saying he didn't go home and watch highlights of his two impressive dunks?

"I swear, I haven't even watched any film on it. Everybody just keeps texting me about it, but I honestly didn't even watch it."

His reaction to hearing Marv Albert's call of his second dunk and Reggie Miller's 'I've been to the mountain and back' comment:

"[Laughing] Sounds amazing."
We'll have to take Gibson at his word here, but it's hard to imagine that he hasn't accounted for a couple thousand of the views on that video. I know if I were him, I'd just lock myself in a closet and watch it over and over and over again.
Wade though, has seen it. Not just him though, but one of his sons caught a replay as well. And he let dad know about it today.

Good to know that Zaire is keeping dad in check. Now he just needs to get him to make a jumper or two.