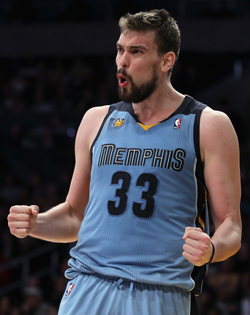 Posted by Royce Young
The
Grizzlies
had a pretty improbable run to a game within the Western Conference Finals and while many saw them as the NBA's Cinderella, they're actually pretty well set up to do it again.
The team has most of the roster under contract for the next few years and not just that, the Grizzlies will also be getting maybe their best player back in
Rudy Gay
who missed the entire postseason.
The only major, lingering offseason question for the Grizzlies though is the future of center
Marc Gasol
. Memphis just locked up his frontcourt buddy
Zach Randolph
to a multi-year extension, locked up point guard
Mike Conley
before the season and inked Gay to a big extension last summer. There's a lot of money tied up already in a few players and with the way Gasol played in the postseason, he's going to require a hefty price as well.
Gasol is a restricted free agent this summer and there's already been a lot of chatter about bigger market teams chasing the big man.
But Grizzly owner Michael Heisley told ESPN.com
that Memphis will eagerly pursue him. The ball basically is in Gasol's court.
"Marc will decide whether he wants to be here. We will aggressively go after him," Heisley said.
. "He's a restricted free agent, so we can match whatever's out there. But obviously if Marc wants to leave, I'm going to have a different attitude than if he wants to stay. I hope he wants to stay. And after what we've done in the playoffs, I think he will."
Insert comment about the uncertainty of the CBA here, but whatever the case, the Grizzlies are going to have to figure out a strong plan as to what to do. It's unlikely they'll retain
O.J. Mayo
who will be a free agent in two years as Memphis simply won't have the space available. What's going to happen is a shuffling of pieces and a restructuring of the core in some ways. General manager Chris Wallace isn't afraid to move on from old pieces (see
Hasheem Thabeet
) in order to sustain what they have going.
Gasol has actually become maybe the prize of the offseason though as he's a seven footer with a balanced game. He can defend, rebound and carry a team in places. Teams like the
Nets
and
Knicks
both will have some money to spend and depending on how they see things turned out with
Dwight Howard
, they could make a play on Gasol. And at just 26, he still has a lot of time to grow and improve. Keeping him could be a challenge because other teams may simply outbid Memphis and lay a contract on the table they're not comfortable matching. But we'll see.