Oklahoma City Thunder All-Star forward Kevin Durant says he is "curious" about what a free agency recruitment would be like. Posted by Ben Golliver.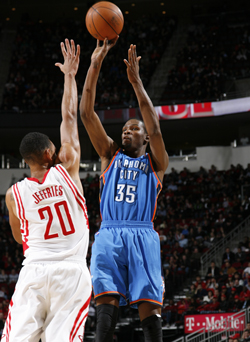 Nearly everyone in the world loves Oklahoma City All-Star forward Kevin Durant. One major reason for that: the hyper-talented, two-time NBA scoring champ quietly agreed to a five-year contract extension with the Thunder last summer without asking for so much as a player option on the deal's final year.
Contrasted with
LeBron James
' "The Decision," Durant's extension came off as both humble and loyal, two qualities that many believe have been lost among modern superstars in professional sports.
Just one year later, though, Durant is apparently singing a slightly different tune. In
an ESPN.com feature
, Durant admits a part of him is curious about experiencing a free agency recruitment period, the likes of which James,
Dwyane Wade
,
Chris Bosh
and Ama're Stoudemire enjoyed last summer.
Asked if any inch of him wanted to someday experience his own summer of LeBron, Durant said: "You said an inch, so I'll take that inch. One inch of my mind just wants to experience that, see what it's like, you know. I've been through the recruitment process, of course, going to college, but I want to see how that is. I'm not saying that I want to go to another team or I want to go to a greater market. But just how much it was publicized this summer, I just want to see what that's like. I'm an interested person, I'm a curious person. And once again, I'm not trying to say I want to leave or anything. But I just want to see how that is.

"I'll be 27 when my contract's up. So maybe when I'm 27 … But you never know. Two or three years down the line, I might sign another extension here. So we'll see. We'll see. But right now, I'm happy where I'm at, I'm glad I'm locked in for five years."
Obviously, it's way, way too early for Thunder fans to panic at Durant's honesty. Five years is five years.
Earlier this week, we noted an SI.com report
that the NBA owners and the Players Association are considering adding a franchise tag to the new Collective Bargaining Agreement to give additional advantages to incumbent teams to help them keep their star players. Durant is the quintessential example of the type of player on whom a franchise tag would be used. If and when he reaches the end of his current extension, he will be 27 years old and just entering his prime. His market value and league-wide interest will never be greater. But he'll also have established a nine-year relationship with the Thunder organization and an eight-year relationship with small-market Oklahoma City and its fans.
In other words, if there's a "franchise tag" in place, Durant's "curiousity" could cost him more than it cost James and Bosh, for example. Both of those players left money on the table to facilitate their moves to Miami from Cleveland and Toronto, respectively, but it wasn't a substantial, decision-changing sum. To James and Bosh, the chance to team up to win a championship far outweighed the financial benefits of loyalty.
But what if the
Cavaliers
and
Raptors
had been able to throw more -- a lot more -- money at them in the form of greater guarantees or additional year(s) at the end of the deal that come with a franchise tag. Would there have been a point where money became the deciding factor again? Probably. Everything has a price, right?
If it's the attention that Durant is seeking, he'll get that no matter what. But if it's a new market or a new challenge, that could cost wind up costing him.