Los Angeles Lakers guard Shannon Brown took to Twitter to squelch a rumor involving Pau Gasol's girlfriend. Posted by Ben Golliver.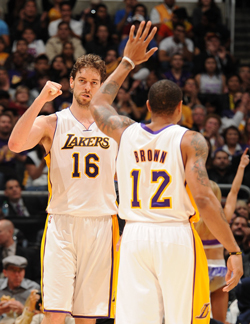 The Los Angeles Lakers bombed out of the 2010-2011 NBA playoffs in surprising and disgraceful fashion.
Lamar Odom
and
Andrew Bynum
were ejected after some unnecessary fouls and most of the rest of the team played without much heart or energy as the Dallas
Mavericks
swept them out of the second round.
In particular, All-Star big man Pau Gasol was listless and ineffective, averaging just 13.1 points and 7.8 rebounds, well below his season averages. It got so bad that Phil Jackson, the Zenmaster, screamed at Gasol and thumped him on the chest to try to wake him up.
As Gasol struggled on the court, rumors off the court circulated about problems involving his girlfriend. The rumors first involved
Kobe Bryant
's wife. Both players moved to squash that talk in relatively short order, stating publicly that the relationships between the two players and their significant others were all hunky-dory.
After the Lakers were eliminated, an even more vicious rumor emerged concerning a supposed relationship between Gasol's girlfriend, Silvia Lopez Castro, and Lakers guard Shannon Brown.
Brown
took to Twitter on Saturday night
to correct the record: "Ok let me put a end to this right now before it goes any further. I DID NOT SLEEP WITH @paugasol woman!!! First and last time addressing it!"
Rumors about the private lives of professional athletes, especially teammates, is a dirty, dirty game. In the past, standard practice for athletes has generally been to avoid commenting on them directly so as not to legitimize them.
Clearly, Brown has opted for a different approach. Given that he has more than 152,000 followers on the social networking site, his side of the story can be dispersed widely and without a filter. Putting out that kind of statement might very well make his life easier, or at least a little less dramatic.
If you're Gasol, though, how do you react? Are you glad Brown put the rumors to bed? Are you a little peeved that a public denial/clarification of this sort was necessary? Are you worried that this might serve as fodder for additional rounds of rumors?
It's hard to know without being in his shoes. It's especially difficult because Gasol did acknowledge that some of the rumors that had spread had been hurtful to Carsto. Does this help or hurt her?