What's at stake for Derrick Rose as the Bulls face the Heat in the Eastern Conference Finals? Oh, the usual for a 22-year-old... not really.Posted by Matt Moore



At first glance, Derrick Rose is playing with house money here. Rose is only 22 years old, the youngest MVP in league history, and in only his third year has taken the Bulls to the top seed in the conference and an Eastern Conference Finals appearance. Everything else should be gravy. He's already accomplished so much, with a proven package of success like he's enjoyed, this should be considered only the start of his arrival, of his long prime play in games that
matter
. Instead, though, we have to realize that this series is big for Rose, not only just because of its inherent importance in proximity to a Finals appearance, but because we've come to understand that those teams with perennial chances have a way of falling to the wayside due to chemistry, pressure, injury, and plain ol' dumb luck.
If Rose needs proof of how important it is to grasp this opportunity in both hands and shake it as fiercely as he can, look no further than
LeBron James
across the court from him. Just four years ago, James was a 22-year-old superstar, playing in his first conference finals on his way to the Finals. He was a phenomenon, just like Rose. It certainly seemed as if this was the start of the reign of King James in the court of O'Brien.
Yeah, about that.
Or, Rose can look at James' partner in crime,
Dwyane Wade
, a fellow Chicago kid who managed to grasp the ring early in his career, and now is fighting tooth and nail for another sip of the cup. Wade plays with determined intensity, well aware that his body, while once like Rose's, incomparable and seemingly invincible, eventually gave way to the wear and tear that makes each Finals run harder than the last.
Or look at
Dirk Nowitzki
, awaiting his opponent across the other conference. Nowitzki has contended with the Mavs for over a decade. At some point Nowitzki was the one you assumed would have one or two rings before all was said and done. Instead, he's chasing that one last shot at glory. That's how quickly things can change.
Rose's path has been blazed with fury and silk. It's not just the blistering drives and the unstoppable floater high off the glass. It's the drive and kick, the pull-up jumper, elbow extended, wrist snapped. It's the humility and the ferocity and above all the undeniable will. He's reached this point, while his elders who were supposed to hold dominion have fallen by the wayside. He's rapping on the gates of basketball heaven at 22 years old, head down, eyes up. Rose's sudden appearance at the top of the conference holds with it an awe of "Is this the start of a dynasty?" in its whispers. The Jordan legacy in Chicago only intensifies this, with the city clamoring not just for one sweet moment of gold and parade, but with a thirst for a new era of dominance. Rose isn't Jordan, but for Chicago, there's no reason to believe he can't be equally as successful. After all, they've seen it before.
But beyond the hype, expectations, and barber-shop "How many titles you think Rose will win?" talk lies this bone-chilling truth: so many young stars have been right where Rose is, looking forward to a decade of rings and the money and glory that comes with it, only to find it all escape them. I'm particularly fond of we in the media's favorite discussion point after a team wins a title, "How likely are they to repeat?" with everyone climbing on board the "Look at what they just did, they're set for the future!" train. You know how many teams have won back-to-back titles in the past 20 years? Three, the
Lakers
,
Rockets
and Bulls, four if you throw in the 88-89, 89-90
Pistons
. That's all. Granted those teams covered three three-peats and a near third before the Lakers implosion over the NBA skyline this season, so that covers a lot of ground. But in between Jordan and Kobe lies a field of teams that thought they would win rings consistently, with only Duncan and his
Spurs
filling the gaps. I say this to make a painfully obvious point.
Winning titles is hard. Making Finals is hard. Cashing in on potential at a young age is much more difficult than it looks.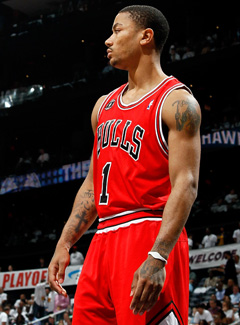 Rose is already discovering this with every tweak of his ankle, every time he crashes into the photographers. He's finding that regular season dominance doesn't make it any easier to close out playoff teams. The
Pacers
and
Hawks
were supposed to be nothing more than exhibitions of how hard the Bulls can shut down a team. Instead, they've showcased disturbing trends for the Bulls in terms of the extra gear and weaknesses on both sides of the floor, even as the Bulls only trailed in a series once these playoffs.
It's only going to get worse from here on out. Rose's Bulls have their own set of things going for them. A suffocating, enveloping, eclipsing defense, the backbone of any championship squad, surely is in place. Shooters in
Keith Bogans
and
Kyle Korver
, a slasher wing in
Luol Deng
, a competent post player in
Carlos Boozer
, and the high-energy, high-hilarity antics of a super-motor center in
Joakim Noah
, the pieces are all there, even if the true No.2 option is not. It's those players that we'll see determining whether Rose can topple a team with greater talent, because do not be confused, despite the "Really, that guy?" factor of the Heat's 4-12 spots (and some would say 3-12), this is still a great team in the Heat, talent-wise. The hype surrounding the Heat at season's beginning and throughout is not without basis, even if their regular season left us cold and disgusted after their antics. The Heat are loaded.
Are the Bulls great? Hard to say. It's not self-evident, even with their record and place in the Conference Finals. There are still points where many of us who watch the game night in and night out ask "Is that a championship team?" even as they keep winning. This team could be great, and if it is it will be in the reflection of their accomplishments, the true exemplification of "the whole is greater than the sum of its parts plus Carlos Boozer and his terrible defense." If they are, it'll be because of Rose's relentless greatness, his leadership, his tenacity, and his simple but humble demand of "Why not me?".
It started with asking "Why can't he win MVP?". It continued with "Why can't the Bulls get the top seed?". It increased to a roar with "Why can't the Bulls make the Eastern Conference Finals?" Now it's not even "Why can't the Bulls make the Finals?", instead it's "Why can't the Bulls beat the Heat?".
Rose has his chance, like so many before him. Chicago believes he'll cash that opportunity in and lead them to a title, the first of many. But first, he has to get by the two players in the generation just above him, who have staked their claim to this era before planting their flag on the summit. If the Heat were audacious in their confidence about climbing the summit, it's Rose who has been audacious enough to make it clear the mountain doesn't belong to them yet.
What's at stake for Derrick Rose? The chance to avoid the heartbreak of an opportunity lost, the kind that you never recover from. It's a chance to climb the stairs at the top of the world and defy the odds. The 2009 series against the
Celtics
was his coming out party, his 2010 series against the Cavs his baptism by fire. His 2011 campaign has been his arrival to the pantheon of the elite.
Some players only get one shot and a failure to cash in means a lifetime of wanting another. Rose is playing to reset the rules, make the Finals, win the championship, and have everyone say, "Yeah... and he's only 22 years old."
This is Derrick Rose's shot at simultaneously ending the presumptive reign of the Heat and ushering in the Kingdom of Rose.