Key adjustment from Lionel Hollins helps Grizzlies force Game 7. Posted by Matt Moore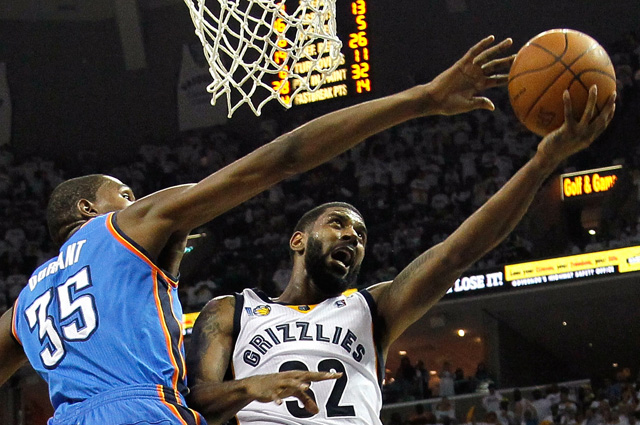 Lionel Hollins has been stingy with his rotations. Despite what seems apparent from anecdotal or empirical evidence, Hollins has stuck with his guys through thick and thin. That's why
Sam Young
is a starter in the National Basketball Association. And it's worked forthe Grizzlies. But faced with a must-win Game 6, in the actual "must-win" sense, Hollins finally made an adjustment. He started
O.J. Mayo
in Young's stead. The result? 16 points and 4 steals for OJAM as the Grizzlies force a Game 7.
Mayo's had the worst year of his career. Yanked from the starting lineup for the first time in his career, knocked out on a team flight, busted for PEDs, and was almost traded. He had every reason to dive into a bench-riding funk and bury himself on the pine. Instead, he embraced the team in the face of their post-deadline surge, working to play smarter and harder. His contributions have been considerable, but more importantly, timely in the playoffs, but his Game 6 performance was biggest.
The
Thunder
were suffocating the Grizzlies slowly as this series went on. They were focused on packing the paint, bringing help, and allowing anyone but
Marc Gasol
and
Zach Randolph
to get theirs. Without any Grizzlies capable of spreading the floor on the starting unit the Thunder could force misses, get out in transition, and attack the rim with
Russell Westbrook
. Mayo's perimeter range served two functions in Game 6. It gave the Grizzlies a legitimate perimeter shooter who gets more active and involved the more he scored, which they are severely lacking when Mayo's not zoned in, and it spread the floor which forced the Thunder to cover Zach Randolph one-on-one.
Yeah, that didn't work out great for the Oklahoma kiddos.
If Hollins getting out of his comfort zone and switching up his rotation was stunning, then the return to normalcy was Scott Brooks' decision not to insert
James Harden
into the unit starting the second half. That helped spark the Memphis comeback as it prevented a mismatch at multiple positions. The Grizzlies could live with Wetbrook attacking O.J. Mayo on the perimeter as long as it was
Thabo Sefolosha
being guarded by
Mike Conley
and not James Harden. With Harden in, there were crisp passes, competent distribution and good team play. Scott Brooks keeps adding elements to why he, like his Coach of the Year award winners before him, might have trouble down the line. The Thunder are one win away from the Conference Finals, but you still have to feel like they squandered an opportunity with a double digit lead that had the Memphis crowd out of it.
If Game 5 proved that the Thunder simply have the talent to win this series, Game 6 proved the Grizzlies simply have the will. If this series finishes by coming down to coaching, the Thunder have to get nervous. Lionel Hollins continues to get this ragtag group to play up to and above their potential.
Down and out, nearly traded? Just another Memphis savior as the Grizzlies force one more.
Game 7 is Sunday.