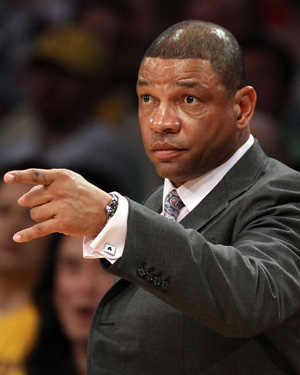 Report: Doc Rivers agrees to five-year deal with Boston Celtics to remain head coach.Posted by Matt Moore
Update 12:09 p.m. EST:
Yahoo! Sports reports
and
Ken Berger of CBSSports.com confirms
that the deal is five-years, $35 million. That's quite a bit, but Doc is worth every penny. Berger reports t
his is the same deal
that's been on the table for months.
Original report:
CSN is reporting Friday morning that the Boston Celtics
have agreed to a new five-year deal
with Doc Rivers to remain head coach.
Rivers
said following Boston's Game 5 loss
to the
Heat
that he was looking to remain a Celtic, and
reports published Thursday indicated a long-term deal
like this was in the works.
It's a curious decision for Rivers, considering his son's imminent enrollment at Duke, and after it took such hand-wringing to convince him to return last year. Rivers was close to walking away after the Celtics' last run fell short, and there's little to indicate the Celtics' odds at a championship will improve, considering their age and cap situation, unless Danny Ainge gets really inventive really quickly.
But sometimes it's not about just your odds at a championship, and Rivers has obviously grown strong connections to the city, the franchise, and especially to its players. Doc will keep roaming the sidelines for a few more years, it seems.
We'll have more updates as this story develops.