The Oklahoma City Thunder look to eliminate the Memphis Grizzlies from the Western Conference semifinals. Posted by Ben Golliver.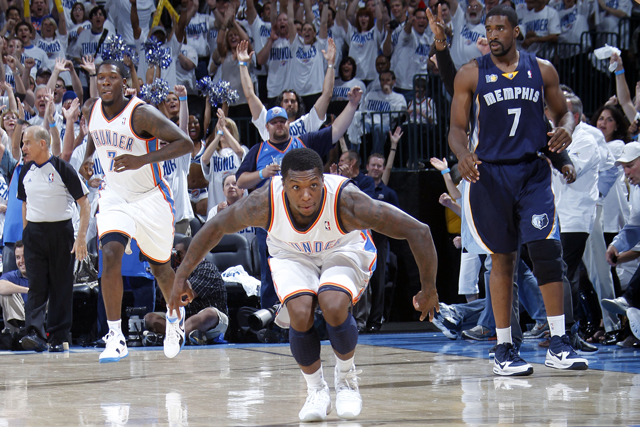 One Big Thing:
Short term memory loss. That's the key for Game 6, after the Oklahoma City Thunder wiped the court with the Memphis Grizzlies, running up the score and celebrating to their heart's desire in a 99-72 blowout win in Game 5. If the Grizzlies can't move past the debacle, the young and hungry Thunder will gladly send them packing for the summer.
Kevin Durant
, in particular, will be looking to repeat his close-out heroics from the first round, when he dropped in 41 points -- including 16 in the fourth quarter -- to eliminate the Denver
Nuggets
. Similarly, the Thunder need to put their Game 5 win out of sight and out of mind. Closing out the Nuggets at home was one thing; closing out the Grizzlies, in front of a rejuvenated FedEx Forum, is an entirely different challenge.
The X-Factor:
I've been waiting and waiting for
Mike Conley
Jr. to collapse under the weight of the playoffs and it finally happened in Games 4 and 5. In Game 4, he shot 2-12, but was able to compensate by getting to the free throw line 12 times. In Game 5, there were no free throw attempts, nor any sort of compensation for his awful shooting. He went 4-16 from the field and committed three turnovers to finish -22 on the night. Just brutal. While he's played above his head in the playoffs against some elite competition, those performances in pivotal swing games can be a killer for the confidence. Can he pull it together or has the damage been done?
The Adjustment:
Memphis's shot distribution was out of wack in Game 5. You don't want to read too deeply into the numbers when a game is out of hand that early, but consider that starting guards Conley and
Tony Allen
jacked up 29 combined shots while
Zach Randolph
had just nine attempts. That was the first time since March 7 that Randolph has played 32 minutes and not had at least 10 field goal attempts. It was also the first time since February 7 that he failed to score in double figures. While
Nick Collison
has done a superb job on Randolph in this series, the Grizzlies, with their total lack of three-point shooting ability, need to get back to pounding Randolph. It's better to go down doing what you do well. Randolph, for his part, needs to rise to the moment and bounce back like he did in Games 3 and 4 after similar struggles in Game 2. It's now or never for one of this year's best playoff performers.
The Sticking Point:
The biggest factor that could hold Memphis back from extending this series could very well be playing time. Thunder stars Durant and
Russell Westbrook
played just 31 and 25 minutes respectively in Game 5, the perfect follow-up to the Game 4 triple-overtime marathon which saw both players log more than 50 minutes. At times in this series, Durant's ability to get open and Westbrook's decision-making have taken a hit late in games. They should be nice and fresh for crunch time on Friday night.