Posted by Royce Young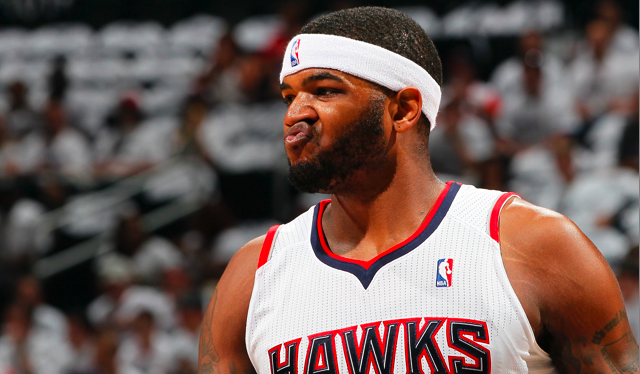 In a do-or-die Game 6, the
Hawks
bowed out rather humbly to the
Bulls
, 93-73, as Chicago moves on to the Eastern Conference Finals. The Bulls looked strong and their season series with the
Heat
, so the East should be tremendous.
But let's talk about the Hawks for just a second. A round of applause is in order, because that was quite a postseason effort.
Think back to just the end of the regular season. The Hawks lost their last six games and limped into the playoffs with a meager 44-38 record. Most everyone in the world didn't give them any sort of a shot against
Dwight Howard
and the
Magic
. And not only did the Hawks take down Orlando, but they did it convincingly in six games.
And once again, taking on the East's top seed, not many felt the Hawks had a legitimate chance to unseat the Bulls. But Game 1 went the way of the Hawks, and a message was sent quickly: Atlanta ain't messing around here. You may not think much of them, but those Hawks weren't going to lie down and just let things play out the way everyone thought.
It's a pretty important development too for this team because, up to this point, they were sort of the NBA's paradise lost. They were a movement built on talent and youth, but a group that never had tasted real success or really even seemed destined to do so. The Hawks were one big ball of quality basketball players, but lacking whatever it takes to go a bit further.
No, they didn't win a title, much less get to the finals in the East. But they did, at the very least, give a renewed sense of hope around this still young core. All hope isn't lost, the dream isn't dead. At the end of March, it was certainly appearing that was the case. The Hawks had started their annual checkout phase of the season and didn't seem to represent any chance of pushing the Magic, much less getting out of the first round. And, not only did they bounce Orlando, but they also gave the Bulls a pretty solid scare.
Is this a title core? Probably not. They still lack something, even if we all have trouble putting our fingers on it. It's probably the fact that everything they have is very good, but not quite great.
Joe Johnson
is a very good star, but not The Star.
Josh Smith
is a very gifted, athletic power forward, but something prevents him from being all that he could be. The one overachiever of the bunch seems to be
Al Horford
and, while very, very good, I don't think he's the type of reliable big man that can shoulder a load and win a playoff series on his own.
So, like I said, it's just not all put together for the Hawks. And it might not ever be. There's a case to be made that this playoff run could've done more harm than good because now management may invest even more in this core. But that's the question: Did they prove something here? Was this enough to say they still deserve a chance? I think that's what we've all got to ask about this Hawks team.
There are some decisions to be made in the offseason. What do you do with
Jamal Crawford
? Do you still hang on to Josh Smith or do you dangle him on the trade market and see what you can get? Is
Jeff Teague
going to be your point guard of the future now? What do you do with
Marvin Williams
? And what else can you add to try and take the next step? The Hawks have to fix things, but at least there is now a level of success to reach for. This group was capable of a solid six-game out against the Bulls in the second round. Now what do you do next to take another step?
I'm a firm believer of reasonable expectations and always keeping them in check. Think back to before the season where you had the Hawks pegged. Think back to the beginning of the postseason where you had the Hawks pegged. Now look at where they've finished. It's moderate progress. Not the overwhelming jump towards a title, but it's
something.
Until this point, there hadn't been much of a taste. The Hawks appeared destined to be playoff also-ran and that was it. At least in this run, they showed that they
could
still be something more.