The Eastern Conference finals schedule might be altered because of television talk show host Oprah Winfrey. Posted by Ben Golliver.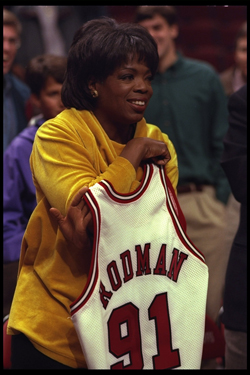 A potential Eastern Conference finals match-up between the Chicago
Bulls
and Miami
Heat
would be a star-studded affair, but it can't take place until a much bigger star has her say.
The Miami Herald reports
that
LeBron James
,
Dwyane Wade
,
Chris Bosh
and NBA MVP
Derrick Rose
could have the start of their Eastern Conference finals match-up bumped up by billionaire television talk show host Oprah Winfrey, who has Chicago's United Center booked for one of her final episodes.
The NBA informed a few involved parties before Tuesday's Bulls game that if the Heat and Chicago win their series in six games or fewer, Game 1 of the Eastern Conference finals would need to be moved from Monday to Sunday night because the United Center likely is unavailable Monday to allow Oprah Winfrey's crew to set up for the taping of one of her final shows. If the Heat or Bulls series go seven games, Game 1 of the Eastern finals would be Wednesday.
Winfrey, a Chicago icon, has been on air for 25 years
according to ChicagoBusiness.com
, and she is expected to tape in front of 21,000 fans. The show will air on May 23 and May 24.
The good news is that Rose is already very, very humble -- you might have heard -- so he should take this scheduling snafu in stride. As for how the Heat will react? Your guess is as good as mine.
I'm sensing a massive synergystic marketing opportunity here. Odds that hometown stars Rose and/or Wade will make an appearance on Oprah's farewell show? Pretty good.