The Washington Wizards have unveiled new jerseys for the 2011-2012 NBA season. Posted by Ben Golliver.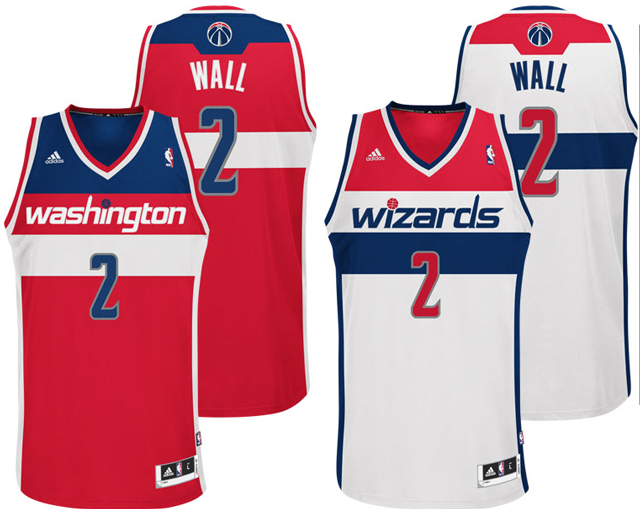 Despite the best efforts of
Gilbert Arenas
and
Andray Blatche
, the Wizards franchise has a long, proud basketball tradition, highlighted by four NBA Finals appearances in the 1970s and an NBA title in 1979.
New Washington Wizards owner Ted Leonsis came to power promising change to a fan base that's dealt with far more than its far share of hijinks over the last few years. Not surprisingly, fans of the team have a nostalgic bent for the days when the franchise was still known as the Bullets and the jerseys came in patriotic red, white and blue. Leonsis understood this sentiment -- and the potential marketing and memorabilia power it represented -- and made it clear last year that new jerseys would be at the top of his agenda list.
On Tuesday, he delivered new home and away jerseys for the team (pictured above,
courtesy of NBA.com
). The jerseys return the team to a 1970s-style look and color scheme. The jerseys incorporate the Wizards logo across the chest and the shorts have a "DC" logo which features a twist on the "arms and ball" logo the team used in the 1990s.
The throwback look fits the team's history and locale much better than the
most recent dark blue designs
, which seemed as contrived as the "Wizards" moniker. Love these new jerseys or hate them, at least they aren't
these gold disasters
. We can all agree on that.
The fan reaction over at
BulletsForever.com
seems mostly positive. "The colors are cool and so are the logos. Old school but with a fresh feel... MUCH better than the gold and blue we were rocking before,"
writes seewhite
.
"Could not be any happier with them,"
agrees hibachi
. "Honestly, they're perfect."