Miami Heat president Pat Riley and Chicago Bulls executive Gar Forman will share the 2011 NBA Executive of the Year Award. Posted by Ben Golliver.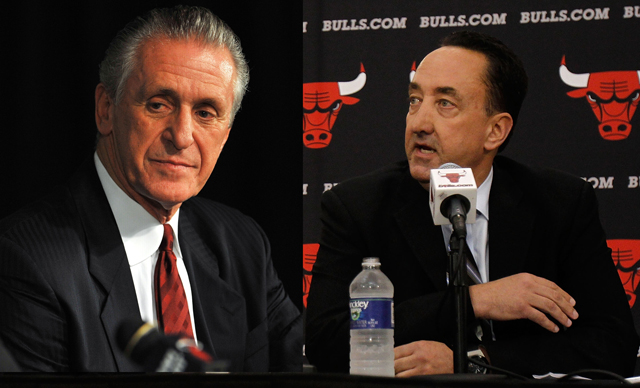 Their teams are poised to face off in the Eastern Conference Finals after finishing with the top records in the Eastern Conference and enjoying two of the busiest summers last season.
Sure, it's a copout, but it's not a total surprise that Miami Heat president and Chicago Bulls GM Gar Forman will share the 2010-2011 NBA Executive of the Year award.
In his 13th season with Chicago and second as its general manager, Forman saw the Bulls win a league-best 62 games, rookie coach Tom Thibodeau earn the Red Auerbach Trophy as the 2010-11 NBA Coach of the Year, and Derrick Rose become the youngest player to win the Maurice Podoloff Trophy as the 2010-11 Kia NBA Most Valuable Player. Forman transformed a 41-win Bulls team by signing free agents Carlos Boozer, Ronnie Brewer, and Kyle Korver among others.
Riley entered his 16th season with the Heat as the architect of arguably one of the most successful offseasons in NBA history. Riley re-signed Dwyane Wade, and signed perennial All-Stars Chris Bosh and LeBron James to form the core of a team that went on to win 58 games and capture the second seed in the Eastern Conference.
Forman and Riley received each received 11 of a possible 30 votes from a panel of their fellow team executives throughout the NBA. The Bulls' John Paxson finished third with three votes and San Antonio's R.C. Buford finished fourth with two votes. Oklahoma City's Sam Presti, New Jersey's Billy King and New York's Donnie Walsh received one vote each.
Riley and Forman offer dueling roster construction theories. Riley, obviously, has embraced the top-heavy approach by catering to the whims of two superstars (plus a semistar) and filling out the rest of the roster with spare parts and bit pieces. Forman has taken a more traditional approach, methodically building around a franchise point guard by collecting role players that complement his skills.
Which approach will win out on the court? We should know the answer to that in a few weeks. But both are worthy of recognition even if that means we must swallow a tie for the first time in the history of this award, which dates back to 1972-1973. That Paxon also received three votes seems like it should have served as a tie-breaker, but oh well.
Previous winners of the award include Milwaukee's John Hammond (2009-2010), Denver's Mark Warkentien (2008-2009), Boston's Danny Ainge (2007-2008), Toronto's Bryan Colangelo (2006-2007) and the Los Angeles
Clippers
' Elgin Baylor (2005-2006).