The Heat haven't closed all year. They closed out Boston in Game 4 to take a 3-1 advantage.
Posted by Matt Moore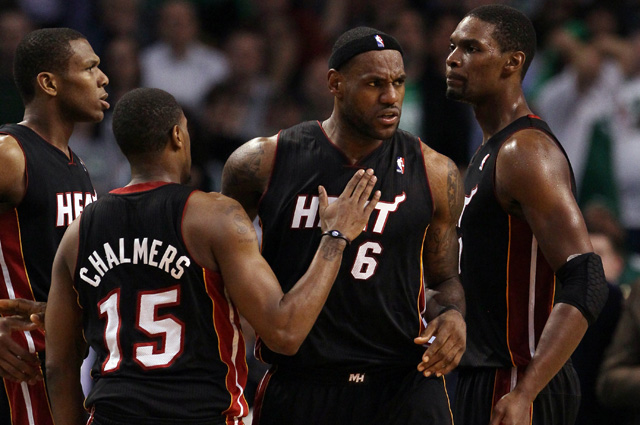 After a season of clutch failures, of questions about
Chris Bosh
, of being plagued by the talk that they are simply not mentally focused enough to win the title, Miami simply shut everyone up.
LeBron James
closed. His last shot was a miss, rebounded and tipped in by Chris Bosh. Other than that? James nailed a huge three in
Paul Pierce
's grill, got inside for a runner, and then made a key pass to get Bosh a dunk. He was a monster down the stretch, despite a key turnover that opened the door for a Pierce game winner which he missed.
The Heat closed. And they may have closed out another NBA superpower. The
Celtics
had seemed like the superior mental team right up until the last regular season meeting between the two. And, after the Game 3 meltdown, there was a sense that maybe the Heat of the regular season had returned. But the Heat washed all that away and the Celtics once again looked like a team that was simply too old to run with the Triad.
Mental focus and intensity were the biggest weaknesses for the Heat in the regular season. But they finally stepped up when they needed to, much like the Celtics were known to. With a 3-1 series advantage, the Heat clearly look like the better team.
Public sentiment means LeBron can't count on anyone providing credit. But it should be noted that he and Paul Pierce had yet another epic game in a career-long battle. They went back and forth at each other all night, and in the end, Pierce missed an elbow jumper from the left instead of his favorite spot, the right. There was miscommunication on the play, and the screen for Pierce never came. James stuck with Pierce and the game winner missed. Meanwhile, for James it was all speed, all aggression.
The Heat have always had the talent. That's obvious. But they never looked like a mentally tough team. But on Monday night, they may have gone through the baptism of fire they needed. They closed.
And they are finally in a position to put the Celtics ghosts that have haunted them to bed.