Posted by Royce Young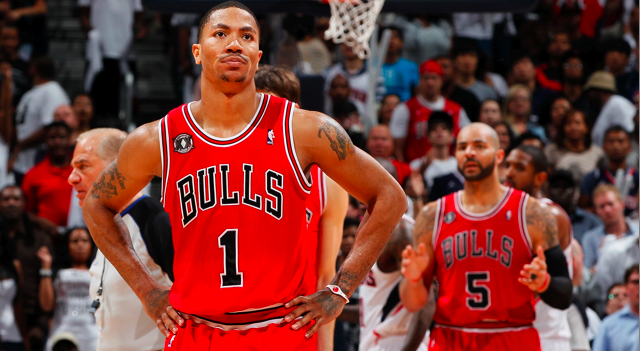 With 4:31 remaining in Game 4,
Derrick Rose
made a slick driving layup to knot the game at 84-84. With the terrific Chicago defense and Rose's ability, common sense said to bet on the
Bulls
for those last four minutes.
But it went wrong for the Bulls. All wrong. Atlanta outscored Chicago 16-4 to close, and not only evened the series 2-2, but revealed some major, glaring scratches in the Chicago armor.
We all spent a lot of time really discussing -- some hammering -- on
Russell Westbrook
for his play in crunch time for the
Thunder
in their Game 3. And, while Rose often seems to get a pass because he doesn't have
Kevin Durant
standing on the wing, let's face facts. Rose attempted 32 shots, made only 12 and really hurt his team down the stretch. I get the differences between him and Westbrook, I really do. He'll get grace for this effort, but I'm not so sure the MVP deserves it.
Let's look at those last four minutes.

4:08, 86-84 Atlanta:
Joakim Noah
comes high to set a screen on
Jeff Teague
and Rose knifes through the hedge, attacking the rim early in the shot clock. He gets there, albeit slightly out of control. It's a shot he's capable of making, though. And that's something you want. You want Rose attacking. But
Josh Smith
rotates well, challenges Rose high and the ball doesn't catch any iron.
3:45, 88-84 Atlanta:
Similar as the last set, with Rose attacking the rim hard. He shoots wildly with 17 on the shot clock as
Kyle Korver
stands fairly open on the wing. Marv Albert immediately says, "We're seeing a lot of one-on-one from Derrick Rose the last couple of minutes." Now again, it's the ever-present catch-22 of having a player like Rose. You
want
him taking over, but you also want him to remember he has four other guys on the floor with him.
3:11, 88-84 Atlanta:
Chicago regains possession and it looks like the Bulls are about to run another pick-and-roll with Noah and Rose. Rose tries to crossover, and loses the handle. Turnover.
2:33, 90-84 Atlanta:
After a timeout by the Bulls, it really appears that the Bulls have a direct set they're going to. Kyle Korver sets a hard screen on Rose's man and there's good action happening. Except Rose stops, pumps and tries to draw contact on
Jamal Crawford
who had left his feet. It was most likely a foul on Crawford, but ref Bennett Salvatore rules it was an inadvertent whistle and calls a jump ball. The point is, though, it appears Rose ignored the set and improvised. He attempted his shot with 19 on the 24. I can't think that's what Tom Thibodeau drew up.
2:02, 92-84 Atlanta:
Panic offense from the Bulls here. Rose dribbles right as Korver rolls to the top of the key. Joakim Noah tries to screen two Hawk defenders at once, but Teague gets through with ease. Korver doesn't care, launching a 28-foot clanker that barely catches front iron.
1:25, 94-84 Atlanta:
The Bulls execute their first successful offensive play of the last couple minutes. Rose dribbles to the corner,
Luol Deng
cuts hard behind Crawford and scores easily at the rim. Pretty play.
1:01, 97-86 Atlanta:
One pass to Korver, who throws it away. There's not much else to say about this possession. Just terrible offense and a bad decision.
0:47, 97-86 Atlanta:
After a missed dunk in transition by Josh Smith, Rose is able to get into the open court and finish with a layup. And that was it for the Bulls.
In the fourth quarter, Derrick Rose was 6-12 from the floor. The rest of the team was 1-4. Now this has been Chicago all season long. Rose is the scorer, he just happens to play point guard. But recall those great finishes against the
Pacers
in the opening round. Remember how it was Rose carrying the team and then the last few minutes setting up teammates? Remember the big, open shots from Kyle Korver?
What was most interesting to me about this game was how
Carlos Boozer
was actually keyed in and playing well. But those last four minutes, he didn't get one touch. Three Bulls actually
touched
the ball those last four minutes -- Rose, Deng and Korver. Noah and Boozer never had the leather in their hands.
Again, back to the Westbrook debate, the question is, who's at fault? Is this on Rose who is the point guard captaining the offense? On Thibodeau for bad offensive design? Or on the other four Bulls on the court for not doing more to get free from defenders? Much like with the Thunder, I lean towards all of the above.
No, Rose doesn't have Kevin Durant on his team, but ignoring Boozer and the three other guys is inexcusable. I mean, why does everyone act like Rose is playing with four clowns or something? This Bulls team won 62 games because the TEAM is good. He has four other NBA players on the floor with him. A couple of them pretty darn good. No, a gifted scorer like Durant isn't one of them, but let's not act like Rose has the kind of roster around him that gives him free reign to fire from the hip at will.
There's no denying that 32 shots from Rose isn't a winning formula. I'd say he took two bad ones during this sequence and the turnover was careless. But he is the Chicago offense. It's been that way all season. And it's not like he settled. Only nine of his 32 attempts came outside of the paint. He attacked. He just had tunnel vision once he went after the iron. But I don't think you can hammer Rose too hard for shot selection. He just maybe called on himself a bit too much.
We've all agreed the Chicago offense has to be a bit more dynamic and socialistic if the Bulls are going to beat the likes of Miami or Boston. Rose will have to lead the way but 32 shots and only four for his teammates in the entire fourth quarter isn't good. The
Hawks
are figuring Rose and the Bulls out. Just imagine what the
Heat
and
Celtics
will do.