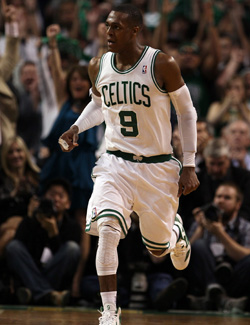 Rajon Rondo returns from a dislocated elbow to help lead the Celtics to a Game 3 win vs. the Heat. How does it stack up versus history? Are we getting ahead of ourselves?
Posted by Matt Moore
Listen, I'm supposed to exaggerate this for you. I'm supposed to throw you comparisons to the "
Flu Game
,"
Willis Reed's return
, or Isiah Thomas'
ankle
. But I'd be doing you a disservice if I did. If I simplified what happened when Rajon Rondo
dislocated his elbow
(
here's a lovely image
, warning, graphic) to those other performances, I'd be ignoring some relevant facts that make this at the same time more, and less, impressive than those other historic performances.
Consider the following which takes some of the glory out of Rondo's performance:
Rondo finished with six points, three rebounds, 11 assists, and five turnovers. That's a great number of assists, especially considering the time he was gone, but not herculean. It wasn't Jordan's 38-7-5.
It wasn't in a championship game, like Willis Reed's or Isiah Thomas'. The fact that it came in a semifinals game, no matter the opponent, puts it at a level beneath.
We won't know how big his performance was until after this season is over. If Rondo's gutsy strength is what makes the difference in the Celtics' drive to the title, then it becomes much bigger. Memorable, sure, but only if the Celtics succeed not only in this series, but the next two.
Rondo will be credited with creating the Celtics' comeback. In reality, the Celtics were already leading by 10 after storming out of the gate at halftime when Rondo went down. This isn't to say that Rondo's injury didn't cause the Celtics to rally around their emotional core, or that he didn't help them to hold onto the lead with his leadership. It's just that to say the Celtics were doomed before Rondo valiantly returned is a falsehood.
That said, give these elements some thought as well:
Rajon Rondo is the youngest member of the Celtics' starting five. He has been buried at times in this series and late in the season for his mental and emotional disappearing act. He has been called out for acting childish, particularly in regards to his reaction to the trade of
Kendrick Perkins
, his close friend. And in a game which the Celtics absolutely could not afford to lose, Rondo not only returned from an injury which, as a player with a bright future ahead of him, and considering the severity of the injury (he dislocated his freaking arm), he had no obligation to return from. But he came back, and when he did, he played with intensity and dedication. He was essentially one-armed for the majority of his playing time and continued to command the Celtics to cut the series deficit to 2-1.
Michael Jordan? The flu is terrible, it's tough, and Jordan's game was better. But IV fluids and the body's natural fight against disease can allow adrenaline to overcome it. Rondo's physical ability to function through the use of his arm was impaired. Willis Reed returned and made little impact to the game. He primarily serves as an iconic image, his jog from the locker room the first such image in league history to be recorded in such a big game. Isiah Thomas? Well, no one likes Isiah Thomas at this point, and ankle injuries? Who hasn't gotten an ankle injury and played through it?
Rondo dunked. With one arm, essentially. And afterwards, instead of basking in his own toughness, or acknowledging how much pain he was in. Instead of using a humble brag to capitalize on his image, he said this:
Rajon Rondo is moody, acerbic, tough to figure out, and can infuriate Celtics fans with his inconsistency. But in Game 3 against the Miami Heat, with the Celtics desperate for a hero (and getting several), Rajon Rondo became that savior. That's not an exaggeration or cliche. Rondo fought through an incredibly tough injury (he dislocated his freaking arm, popped it back in, then played through it, for crying out loud) and may have saved the Celtics' season.
Toughness is a core value of the Boston Celtics. And when they needed it most, the enigmatic point guard showed up and led by example, through toughness.
Game 4 is Monday.