Posted by Royce Young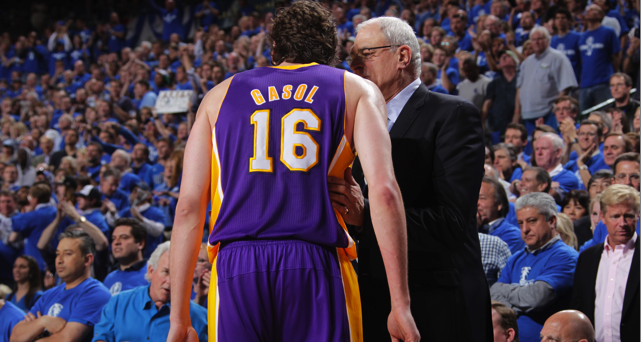 It was obvious to Phil Jackson early on. I've seen Phil get animated, but during a break in the first half last night against the
Mavericks
, Jackson went right after
Pau Gasol
, even giving him a little bump in the chest with his fist. Later, Jackson zeroed in on Gasol again, giving him what some would call, a "butt-chewing."
Gasol got the message. His play didn't necessarily reflect it, but he says he got the message,
according to Yahoo! Sports:
He's "out of it" mentally and hasn't been able to be "effective or comfortable out there," but couldn't explain why and says he needs to "snap out of it." Time is running out….

"It's been tough," Gasol simply said. "It's been tough more than anything [because] of the losses."

When asked if this poor playoff season ruins his previous Laker accomplishments, Gasol sternly responded: "You tell me? Should it? I don't know. I don't think so."
That's not good news for a team down 0-3. Also not good because
Andrew Bynum
was vocal after Game 2 about "trust issues." The
Lakers
are clearly having problems right now and most will point directly at Gasol. He's a player as responsible for their back-to-back titles as anyone, but within the triangle offense, it's almost as Pau goes, the Lakers go.
In this series, he's averaging just 13 points per game on 42.8 percent shooting. For the playoffs, the numbers are virtually the same. Against the
Hornets
, Gasol was a disappointment, but L.A. advanced because, well, they were playing
Chris Paul
and four dudes that stumbled in from Mardi Gras.
But against the Mavericks, it's another story. Not only is Gasol not contributing to the Laker offense,
Dirk Nowitzki
is torching him.
According to ESPN State and Info,
27 of Dirk's 32 came with Gasol "on" him. (I put "on" in quotes because there were a few times where Gasol was decidedly not on him.) For the series, Nowitzki is shooting 19-25 from the floor for 42 points when Gasol checks him. That's ridiculous on Dirk's behalf and inexcusable on Gasol's.
Gasol's shimmering reputation as one of the most gifted big men in the league is taking a serious tarnishing right now. He's the focus of a lot of negativity. Andrew Bynum was visibly keyed in and aggressive all night. Gasol gave away an easy
Jason Terry
dunk at one point because he was barely holding on to the ball. Jackson claimed that was the play he first singled Gasol out on, but it's much more than that.
It speaks to the respect we all have for Jackson,
Kobe Bryant
and the Lakers that we haven't completely ruled them out from being the first team ever to come back from 0-3. (Or maybe that speaks to the Mavs. I don't know.) They aren't out of it until the buzzer sounds and Dallas has more points than them in a clinching fourth win. But if they have any dreams of getting there, any dreams of winning a third consecutive title, Gasol must absolutely snap out of it.