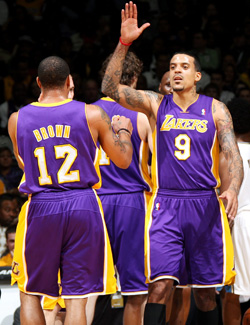 Posted by Royce Young
Down 0-2 heading to Dallas without your best defender? Not exactly ideal if you're the
Lakers
.
And Phil Jackson, knowing something needs to change, isn't looking at your expected replacement for
Ron Artest
who was suspended for Game 3. Common sense says to go with
Matt Barnes
who plays that position and backs up Artest anyway. Except Jackson is actually leaning towards a shuffle, bringing in
Shannon Brown
to start at shooting guard and moving
Kobe Bryant
to small forward.
The OC Register explains:
Brown is also at least healthy, whereas Barnes is still regaining his feel after missing the end of the regular season with knee soreness.

Barnes has not been sharp — fouling ahead of defending and rushing shots near the basket. Brown has been inconsistent in his decision-making but shooting OK. If Brown starts, Bryant would likely defend Shawn Marion after defending Jason Kidd to start Game 2.

But Bryant would have an easier time attacking the basket from a wing position at small forward — and he has very rarely gotten inside in the first two games vs. Dallas.

It would be an interesting move and one that might create some matchup issues for the
Mavericks
. Having Kobe on the wing might free him a bit more and having Brown in the starting five might just be a major spark. The Lakers are struggling to find offense right now and Brown is a pretty good scoring option.
Some suggested going with
Lamar Odom
at the 3, playing very big with
Pau Gasol
and
Andrew Bynum
next to him. Except that trio has played less than 25 minutes on the floor together this year, suggesting Jackson doesn't like it. However, Odom said at Lakers shootaround that he expects to start at small forward.
Barnes will obviously see heavy minutes, but Jackson is looking for some kind of combination to spark his group. Shannon Brown though? Or Odom? I guess we'll see.