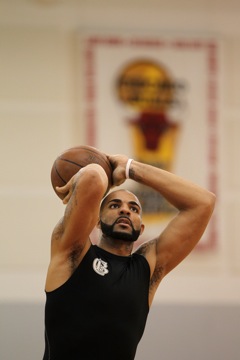 Posted by Royce Young
That wasn't "Booooooooz" or "Boo-urns" they were saying. It was just straight "boo."
Long, loud boos directed at one specific player.
Bulls
fans have grown increasingly frustrated with
Carlos Boozer
has he's been less than terrific in the postseason to go with a somewhat unspectacular regular season. The $80 million man is averaging just 10.3 points per game on 38 percent shooting in seven playoff games thus far.
The result? Not just some scattered booing, but loud, obvious booing when Boozer checks out and in from games. Fellow Bulls big man
Joakim Noah
told
the Daily Herald that he's heard enough of it.
Noah asked fans to "support every one of us," and it was obvious what he meant. The fans are getting restless with power forward Carlos Boozer…

"I love our fans. We have the best fans in the NBA, no question about it," Noah said. "But I understand our fans are very demanding and that can be very good and in some aspects that can be bad, as well.

"Carlos is in a situation where he's hurt and he's giving us everything he can. I've been in the position where I've been booed before in the United Center and I know to get to where we want to get to, we need Carlos. We should be supporting him. I don't understand that."
Boozer of course has been battling a turf toe/ligament issue the past few games and appears to sort of be gutting it out. But as the Chicago offense continues to look pedestrian and centered entirely around
Derrick Rose
, Bulls fans don't care about valid excuses. They want results. And right now, the regular season's best team isn't giving them very good ones and a lot feel Boozer is to blame.
They're right in the sense that the Bulls need Boozer playing at a high level in order to challenge for a championship. Chicago had issues with Indiana and it's no sure thing that the Bulls are advancing past the
Hawks
at this point. A big reason is the output from Chicago's starting power forward. Just 10 points and long disappeances isn't cutting it right now.