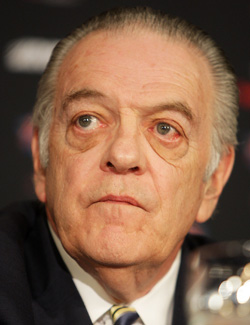 Posted by Royce Young
There's always been reason to believe Isiah Thomas wasn't done with the New York
Knicks
. He's owner James Dolan's friend, Dolan tried to hire him as an "advisor" last summer and reportedly, Thomas was actively involved in bringing
Carmelo Anthony
to the Big Apple.
But it's going to end there,
according to the New York Post.
Current president Donnie Walsh is
close to signing a contract extension
and Dolan has informed Walsh that Thomas won't be brought back in any capacity. That has always appeared to be a contentious thing within the Knicks front office was who actually had power. The Melodrama was a big example of that.
As the Post reports though, Walsh is "expected to be granted permission to hire his successor as a central part of a new agreement that should be announced shortly."
If you've somehow forgotten, Thomas essentially destroyed the Knicks' cap situation, overpaid everyone, got himself involved in a lawsuit and set the franchise back a good five years. Walsh has resurrected basketball at Madison Square Garden by getting New York's cap under control while also accumulating a good amount of young talent.
There's absolutely no reason to flirt with Thomas again and ignore Walsh. Sounds like Dolan is finally making a very good call here that's in the best interest of his organization and not his personal ones. Not that there isn't some curiosity justified by wondering why it took this long to finally ditch Thomas and commit to Walsh though. But hey, better late than never.
Walsh has reportedly been keen on former Knicks guard Allan Houston as a possible replacement, though I'm sure the Knicks will at least check out the current market. The good news is though, Isiah Thomas won't be one of them.