The Dallas Mavericks bench has been sensational in the 2011 NBA Playoffs. Posted by Ben Golliver.
The Dallas Mavericks delivered a stunning Game 2 beatdown of the Los Angeles
Lakers
on Wednesday night, flipping everything that we thought we knew about the Western Conference playoff chase on its head. The Mavericks put together a complete performance for four quarters, clocking the Lakers 93-81. They now head back to Texas with a commanding 2-0 series lead.
While much of the attention on this series has been on L.A.'s implosion, and rightfully so, we shouldn't overlook what has been a very, very impressive postseason from the Mavericks bench. So far, the numbers are, honestly, eye-popping.
The Mavericks are 6-2 in their eight playoff games against the Portland
Trail Blazers
and Los Angeles Lakers. They're winning, overall, by an average margin of 6.9 points per game. Dallas's reserves, though, are outscoring their counterparts by an average of 14.4 points per game! Yes, I used an exclamation point.
Here's a look at how dominant the Dallas bench has been. Dallas' scoring totals for each of their eight playoff games are in blue. Their opponents' are in red. Keep in mind, these numbers include Blazers guard
Brandon Roy
's huge Game 4 explosion and the fact that Los Angeles has an All-Star caliber player and the NBA's Sixth Man of the Year in
Lamar Odom
coming off its bench.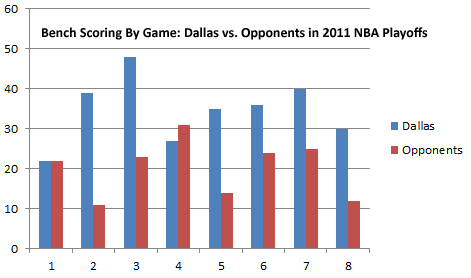 As for this Lakers series specifically? Dallas reserves have nearly doubled Los Angeles reserves, 70-37, in the first two games of their series. Really, there's no slowdown in sight. The production has been coming from all corners.
Jason Terry
,
Peja Stojakovic
and J.J. Barea have helped Dallas win the bench scoring battle in six of their eight playoff games.
Barea was so effective in Game 2, scoring eight of his 12 points in the fourth quarter by darting in, around and through L.A.'s defense, that Lakers forward
Ron Artest
decided to clothesline him
in garbage time in a desperate attempt to send a message.
Let's take one final look at how this all adds up. Dallas' bench has averaged 34.6 points per game in the playoffs, which is particularly impressive because the Mavericks have played a number of low-scoring games and are averaging just 94.9 points per game as a team. As for Portland and L.A.? Their benches have contributed just 20.3 out of their team's average of 88.0 points per game.
Here's a side-by-side pie-chart to spell out that vast difference in relative production. Dallas's bench is scoring 36.5 percent of its points in the playoffs so far while their opponents' bench is scoring just 23 percent.

Entering the series, this match-up was all about
Kobe Bryant
vs.
Dirk Nowitzki
. Through two games, its clear that its the bit players who are making the difference.