Boston Celtics forward Paul Pierce is dealing with an Achilles injury. Posted by Ben Golliver.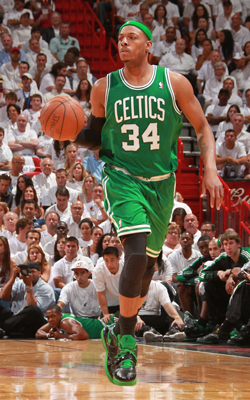 Here's the injury added to the insult of the Boston Celtics dropping both Games 1 and 2 to the Miami
Heat
in Florida: Forward Paul Pierce says he is "day to day" with an Achilles injury
according to WEEI.com
.
Paul Pierce strained his left Achilles tendon in the first quarter of Game 2 and had to go back to the locker room for a stretch. He returned soon after and scored 13 points in the Celtics' 102-91 loss. "It's day to day right now," Pierce said. "We'll see how it feels the next couple of days."
Pierce said he wasn't sure how the injury happened, but it was a problem for him. "When you strain your Achilles, every step is like a slight little pain," he said. "It actually loosened up as I got back in there and it didn't really affect me the rest of the game."
Is this just another sign that the aging Celtics can't keep up with the three-ring athletic circus that is the Miami Heat? Is this an early excuse seed-planting in the event Boston bows out of the playoffs in ugly fashion? I'm not sure on either count. It's still too early to tell.
One thing is clear though: The Celtics need more from Pierce. His averages so far against Miami: 16 points, six rebounds, 1.5 assists just aren't going to be enough to get it done with
LeBron James
and
Dwyane Wade
going off as they have been.
Pierce needs to get to the free throw line with more regularity and also hope that his 44% shooting in the series so far heads back towards the 49.7% mark he posted during the regular season.