The New York Knicks are reportedly interested in signing free agent Samuel Dalembert. Posted by Ben Golliver.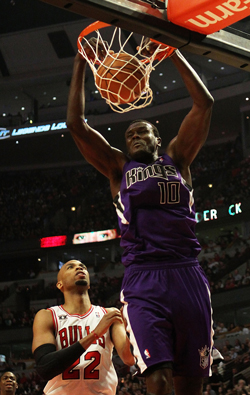 You know it, I know it, everybody knows it: The New York Knicks need a center. They need a center to improve their rebounding. They need a center to improve their team defense. They need a center to ease the wear and tear on forward
Amar'e Stoudemire
. They need a center to stand around, being all tall, while
Carmelo Anthony
works one-on-one in isolation.
The New York Post reports
that the Knicks have their eyes on a player to fill these needs.
With the chances slim of adding a quality center with the 17th pick in the draft and with an unkind salary cap situation in 2011, sources close to Knicks president Donnie Walsh say he has targeted Kings 6-foot-11 shotblocker Samuel Dalembert as the likeliest free-agent catch this summer.
According to a source, Dalembert likely would choose the Knicks if their offer is comparable with any others.
The
Post
cites Dalembert's ties to the New York area and its Haitian community as particular draws for Dalembert.
This isn't the first time Dalembert and the Knicks have been linked but it is the strongest report yet that team and player share mutual interest. Dalembert, who has missed just two games in the past five seasons combined and provided steady 8-10 points, 8-10 rebounds and two blocks per game statistical production over that time period. He might not be overly physical but he's long, big, proven and, at 29 years old, still at the tail end of his prime. If New York makes this signing happen, it would qualify as a minor coup.
The Sacramento Kings expect rookie
DeMarcus Cousins
to take over the starting center position full time, leavign Dalembert's future there in question. The Kings do have loads and loads of cap space to spend and you can never have too many quality big men. In other words, it's no guarantee that he's gone this summer, although the clock is starting to tick on his career and now is as good a time as any to find his way to a contender.
Really, letting Dalembert walk straight away would be a mistake for the Kings. If they decide he's extraneous or not in their long-term plays, a sign-and-trade makes a lot of sense: Dalembert gets paid, a team with a hole in the middle, possibly the Knicks, gets a quality center and the Kings receive an asset or assets in return. This is the same franchise that just failed in its bid to relocate, though, so who knows what will happen.