Memphis forward Zach Randolph was missing in action when the Grizzlies needed him the most. Posted by Ben Golliver.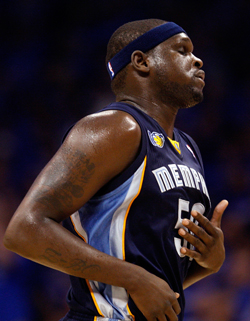 Things were finally starting to look up for Memphis Grizzlies forward Zach Randolph. He has battled a bad rep for years, and flown under the radar for most of his NBA career. Despite being one of the league's most productive big men, he's been named an All-Star just once and has been long been known for his run-ins with the law rather than the merits of his game.
That's changed in the past few weeks, as the Grizzlies launched a stunning upset over the San Antonio
Spurs
in the first round, and stole Game 1 of the Western Conference semifinals against the Oklahoma City
Thunder
. Randolph even got
a nice write-up
in the
New York Times
.
Unfortunately, those good times came to a halt for Randolph on Tuesday night, as the Grizzlies fell to the Thunder, 111-102, in Game 2, and Randolph uncharacteristically struggled mightily from the field.
First, some perspective. Randolph was the No. 19 NBA scorer this season, averaging 20.1 points per game. His 50.3 field goal percentage was good for No. 27 in the league, a rank that doesn't really do him justice given how much of his scoring comes from his perimeter game. When the
Thunder told CBSSports.com's Royce Young
that Randolph was the best power forward in the league, they might have been exaggerating, but it wasn't an insane statement. In fact,
Dirk Nowitzki
is the only other premier power forward with comparable numbers that's still playing in the NBA playoffs.
Randolph's value as a player is tied directly to his elite consistency. Randolph scored in double figures in 72 of his 75 appearances for Memphis during the regular season, and only grabbed less than eight rebounds seven times on the year. More or less, you knew what he was giving you. He was the bedrock.
As Young writes, Randolph was ably held in check in Game 2 by the Thunder defense. Randolph scored 15 points and grabbed nine rebounds -- getting his numbers -- but he did so in super-inefficient fashion.
Indeed, Randolph shot just 2-for-13 on the night. That 15 percent shooting clip was Randolph's second worst of the entire 2010-2011 campaign. Only a 2-14 performance in a February 7 loss to the
Lakers
was worse.
Here's a chart that reinforces how consistent Randolph is. Rather than looking at scoring, it's a look at his game-by-game field goal percentage. You don't need to a magnifying glass to see his Game 2 performance, on the far right, sticking out like a sore thumb.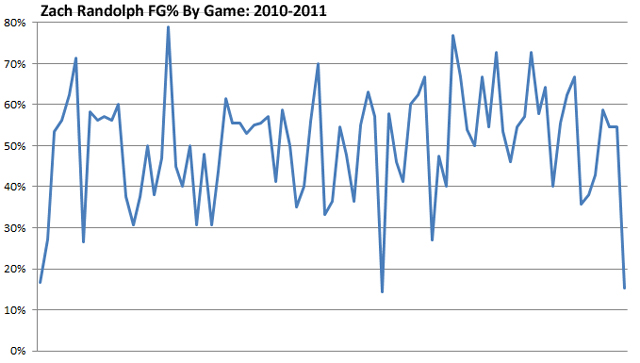 As the chart shows, Randolph failed to shoot 30 percent, a good cut-off point for an awful night, just five times this season, including Game 2.
Randolph is in some good company there. For comparison's sake, Lakers star
Kobe Bryant
and Thunder star
Kevin Durant
each failed to shoot 30 percent five times on the season as well. The same goes for the NBA's MVP,
Derrick Rose
and Miami
Heat
All-Star
Dwyane Wade
.
Who was better among the NBA's elite scorers? Nowitzki only slipped below 30% three times. Same thing for Heat All-Star forward
LeBron James
.
So the Thunder are smart to be wary about their ability to repeat their defensive performance on Randolph. In reality, he had a once-every-40-games off night, and won't likely repeat that ugly performance during the rest of the Western Conference semifinals.