Denver Nuggets center Nene Hilario says he is considering opting out of his contract. Posted by Ben Golliver.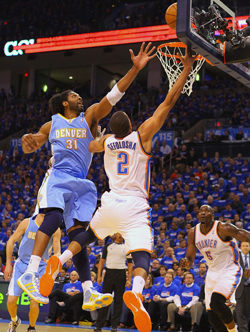 It's time for Nene Hilario to get paid.
The Nuggets big man has an option on the final year of his contract which is set to pay him $12 million. He's 28 years old, coming off a season in which he averaged a career-high 14.5 points per game and 7.6 rebounds per game. What's more, he's been durable of late, missing just 12 games combined in the last three seasons.
To no one's great surprise,
The Denver Post reports
that Nene is making noise about opting out of the final year of his contract.
While no final decision has been made, Nene said Monday he is strongly considering opting out of the final season of his six-year, $60 million contract, which would pay him $12 million, and testing the free-agent market.
After nine seasons in the NBA, Nene has full control of his future and it could take hard work for the Nuggets to make him happy enough to return.
"I've been here for nine years," said Nene, 28. "If that doesn't work how you want it, you need to sit down and evaluate everything and see what you can do."
The most likely eventuality here is that the Nuggets and Nene eventually agree to a lucrative extension. Nene is a critical piece on a frontline that includes veterans
Kenyon Martin
and
Chris Andersen
as well as the recently-acquired
Timofey Mozgov
. Nene is the linchpin and the Nuggets would be taking a major step backwards if they aren't able to retain him.
SI.com reports
: "Nuggets and Nene are not close to an agreement on an extension, sources say. Haven't discussed terms in weeks. Nene is inclined to stay in Denver. But there will be a robust market for 28-year old center. Houston, Portland possibilities." It's worth noting that Portland is capped out so that would have to be an extend-and-trade scenario.
The Nuggets are behind the eight ball here and will be forced to pay up. But if Nene is determined to get maximum money there will be multiple teams with cap space this summer and talented, proven big men are always in high demand. In other words: ca-ching.