Posted by Royce Young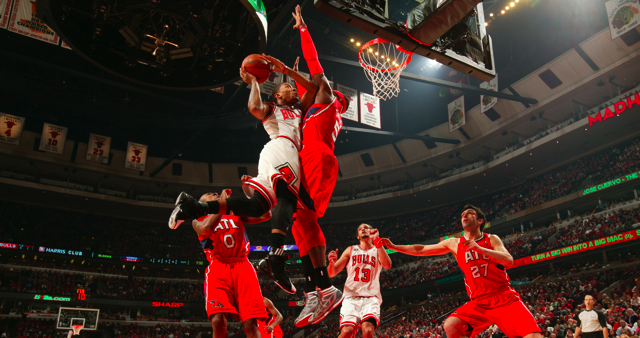 Even after the
Bulls
dispatched the 37-win
Pacers
in five games, something just didn't look right. Maybe it was because three of the wins were so close to loses. Maybe it's because they lost once. Maybe it's because we expected more from the league's best regular season team.
We all expected a different Chicago team. I know I did. I tried to put my finger on it for five games against the Pacers, but something was just
missing
in that Indiana series. I figured it started to get sorted out in the Game 5 blowout clincher. And with a few days off, I figured the Bulls would be completely prepared for the
Hawks
.
Wrong.
The Hawks dominated early, starting the game on an 11-0 run before withstanding a strong surge by the Bulls in the third to win 103-95 and take a 1-0 series lead. Just like that, the Hawks snatched homecourt advantage from the Bulls and may have taken a little of their confidence with it too.
Because one team looked like the No. 1 seed and it wasn't the one in home whites.
Derrick Rose
was, well, awful. He went just 11-27 from the floor, for 24 points (no free throw attempts). The Chicago defense was carved up by solid floor spacing and good Atlanta shooting.
Joe Johnson
had maybe the best game in his playoff career; scoring 34 on 12-18 from the field (including an impressive 5-8 from midrange). The Hawks shot 51 percent, won the rebounding battle, turned it over just 10 times and made their free throws. A total recipe for a road win.
But, back to the Bulls. I'm the type of person that really hesitates on ever hitting the panic button. And it's still in another room for me right now in regard to the Bulls. But it's hard not to at least be alarmed about Chicago. Because they didn't improve. They didn't adjust. They didn't correct the issues that plagued them against Indiana.
They relied entirely too much on Rose's playmaking ability and appeared to almost
assume
they could stop the Hawks offense. It was like they didn't realize that Atlanta is actually pretty good. The energy and effort was there. It was more about a lack of preparation, execution and shot-making. The Bulls failed in all three areas.
The Pacers seemed to diagram out a good way to beat the Bulls: control tempo, funnel Rose into contested jumpers, try and keep him off the free throw line and force them to execute good offense in the halfcourt in big moments. Force the Bulls into relying entirely on Rose's ability, and take away Chicago's key advantages. The Pacers did well for the most part there, but they couldn't finish. They didn't have the horses to get to the end.
The Hawks, though, have players. They've got talent. Between Johnson,
Al Horford
,
Jamal Crawford
and
Josh Smith
, the Hawks can ball. Remember how not having
Kirk Hinrich
was seen as a big blow? All
Jeff Teague
did was score 10 points and dish out five assists with only one turnover. The Hawks were ready. And they took it to the Bulls.
By no means is this series over. Just like the favored
Thunder
who dropped Game 1 at home to Memphis Sunday, things can turn around quickly. But what this means is that Chicago has a very, very important game Wednesday night. Immediately the Bulls have put themselves into a must-win situation. Lose Wednesday and that panic button gets a whole lot bigger, and I might not be able to keep myself from punching it.
Tom Thibodeau was presented his 2010-11 Coach of the Year award before the game Monday night. It's time for him to really earn it. The Bulls have to move past the issues from the Indiana series. They've got to make some adjustments. In Game 1 versus Atlanta, there weren't any from the opening round. And the Bulls paid for it.