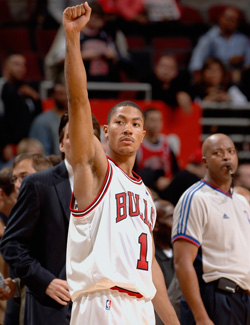 Posted by Royce Young
According to the Chicago Tribune,
Derrick Rose
will be named the youngest MVP in NBA history Tuesday.
It's no big surprise as Rose was the clear favorite by the end of the regular season, but the 22-year-old guard will officially be awarded the Maurice Podoloff Trophy in Chicago becoming the first
Bulls
player to win the award since Michael Jeffrey Jordan. (He won it five times, the last being in 1998.) The expectation is that Rose will be presented with the award before Wednesday's Game 2 versus the
Hawks
.
Of course we won't know the final tally until tomorrow, but Rose likely took the award in a landslide. Rose had a terrific season leading the Bulls to a league-best 62-20 record while averaging 25.0 points, 7.7 assists and 4.1 rebounds per game. He was ninth in the league in PER at 23.62.
Rose is in his third season in the league after being the No. 1 overall pick from Memphis in 2008. He was born in Chicago. He won the Rookie of the Year in 2008-09 and was named to his first All-Star team this season as a starter.
Rose carried the Bulls for most of the season as the Bulls battled injuries to starters
Carlos Boozer
and
Joakim Noah
. He's known for his flashy, jaw-dropping play, but Rose developed a 3-point shot and commanded the Chicago offense better this season than his previous two. He's known for his quiet, calm, humble demeanor off the court but on it, he's become a one-man highlight film.
Before the season, Rose asked the question, "Why can't I be MVP?" This was after a poll of NBA general managers picked
Kevin Durant
to run away with the award.
"The way I look at it, within myself, why can't I be the MVP of the league?" Rose said in September. "Why can't I be the best player in the league? Why? Why can't I do that?"
I think you answered that question, Derrick.