Oklahoma City Thunder guard Russell Westbrook was careless in Game 1, but don't overlook a different story about turnovers. Posted by Ben Golliver.
Oklahoma City Thunder point guard Russell Westbrook commits a lot of turnovers. So many, in fact, that he
led the league
with 3.9 turnovers per game. But like many highly-skilled, high-usage players, looking only at Westbrook's turnover numbers doesn't tell a very clear story; his relentlessly attacking style means that he commits a high number of turnovers in both wins and losses alike.
On Sunday, Westbrook committed seven turnovers in Game 1 of Oklahoma City's Western Conference Semifinals series, a 114-101 loss to the Memphis
Grizzlies
. It was the second time in six games this post-season that he's committed seven turnovers, and Orlando
Magic
center
Dwight Howard
is the only player in this year's playoffs to commit more in a game.
Turnovers are bound to play a major part of this series, as Memphis led the league in forcing turnovers, watching the opponents cough up the ball 16.7 times per game. But pinning the Game 1 loss on Westbrook's lack of ball control doesn't tell the full story.
Here come some numbers. The Thunder was 31-13 (70.4 percent winning percentage) when Westbrook committed four turnovers or less, and 28-16 (63.6 percent) when he committed more than four turnovers this season. The Thunder was also 11-7 (61.1 percent) when Westbrook committed six or more turnovers. Somewhat amazingly, the Thunder was 8-4 (66.7 percent) when Westbrook committed seven or more turnovers this season, including a win in Game 2 of Oklahoma City's first round series against the Denver
Nuggets
. To summarize: The Thunder played better when Westbrook took very good care of the ball, but they weren't sunk by any means if he was all over the place. Thanks to their tempo, offensive efficiency and ability to get to the free throw line, the Thunder was able to win more often than not regardless of how many miscues Westbrook committed.
Bigger than Westbrook's struggles with his ball-handling in Game 1 was the fact that the Grizzlies did an excellent job of taking care of the ball. As a team, Memphis turned the ball over just eight times, giving them a +10 differential against the Thunder in Game 1. That's an excellent recipe for success: Memphis was 10-1 during the regular season when they committed fewer than 10 turnovers. Meanwhile, Oklahoma City was 5-9 in games in which they didn't force at least 10 turnovers.
Above, we noted that Westbrook's turnovers don't have a direct relationship with Oklahoma City's winning percentage. The team's turnover differential is another matter. The Thunder, who are now 59-29 including the postseason, have a winning percentage of 67 percent.
Take a look at the chart below. If you break down those wins and losses by turnover differential, you can see that Oklahoma City fared very well when they won the turnover battle by a wide margin. They fared well when they won the turnover battle by a little, or kept it even. And, they played surprisingly well when they committed less than a handful more turnovers than their opponent.
That column on the far right, though, sticks out like a sore thumb and it shouldn't be surprising. In games in which the Thunder committed five or more turnovers than their opponent, their record was just 7-11 (38.9 winning percentage). Game 1 against the Grizzlies, obviously, falls in that category due to the -10.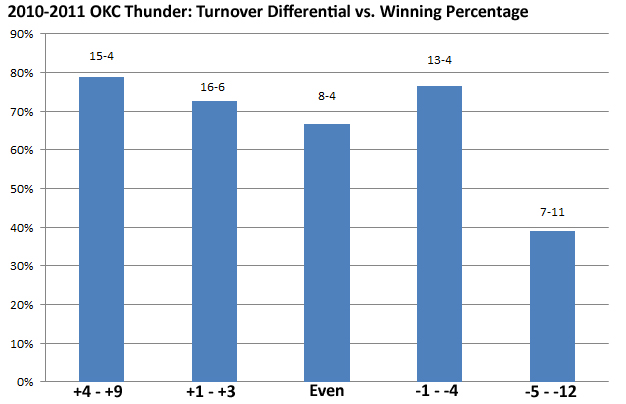 What are the takeaways here?
First, scapegoating Westbrook is too simple. He needs to do better (and he definitely needs to shoot better, going just 9-for-23 from the field), and his turnovers matter, but they don't directly impact OKC's chances of winning as you might assume. Simply put, if OKC's defense is creating turnovers, Westbrook's errors are a minor factor.
Second, give credit where credit is due ... to the Grizzlies for protecting the rock. They're especially deadly when they wreak havoc defensively
and
protect the ball. It's not easy to play gambling, tough-minded defense on one end and under-control, efficient offense on the other. That's what Memphis has been doing in the playoffs, particularly in its last two games.
Third, if OKC can avoid getting clobbered in the turnover differential category -- as they did for a vast majority of the season -- they stand a very good chance of being able to bounce back from a loss that cost them homecourt advantage. The Thunder doesn't need to win the turnover game to win the series, they just need to keep it close, much closer than they did in Game 1.