LeBron James does not agree with the statement that he quit against the Boston Celtics in the 2010 NBA Playoffs. Posted by Ben Golliver.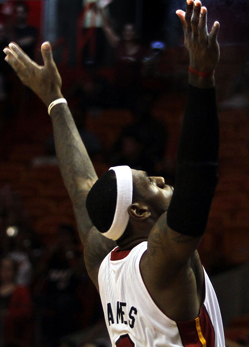 Who could forget one of the greatest playoff meltdowns in NBA history? After torching the Boston Celtics twice in the second round of the 2010 NBA Playoffs, then Cleveland
Cavaliers
forward LeBron James pulled a disappearing act in his team's three straight losses to close the series. His Game 5 performance was by far the worst, when he scored 15 points on 3-for-14 shooting in 41 minutes, looking listless and disengaged throughout.
That performance led Cavaliers owner Dan Gilbert to criticize James after he signed with the Miami
Heat
during free agency. Gilbert memorably said that James "quit" and that line of criticism was popular among Cavaliers' fans thinking during James' two trips to Cleveland this season.
On Saturday, one day before James' Heat are scheduled to face the Celtics in the 2011 NBA Playoffs,
the Heat Index reports
James' response to the idea that he quit last season.
"That's corny," James said. "I don't understand that type of stuff."
Last year's loss, however, apparently has given James extra motivation.
"It is personal," James said. "You don't want to keep getting beat by the same team; the same team sending you home to plan vacations."
James does all sorts of corny things -- the pre-game photo routine, his chalk toss, The Decision, wearing a head band on tilt to hide his receding hairline -- so he is an expert on this subject.
In this case, though, he's essentially correct. Gilbert is the definition of corny. The comic sans fiasco. The misogynistic tweets about media members. The whole "barring LeBron's posse from the parking lot" incident. Corny, corny, corny.
Plus, criticizing James' performance in the 2010 playoffs has run its course. That well of ammunition has run dry. It's so last year. He bounced back with an MVP-caliber season and is on a new team, one with its own flaws and issues to nitpick.
And that's the beauty about this week's Heat-Celtics series. James can either get his revenge against all the critics by winning, or he can launch a whole new round of attacks upon his character and his abilities as a basketball player should the Heat be unable to get over the Celtics hump.