Posted by Royce Young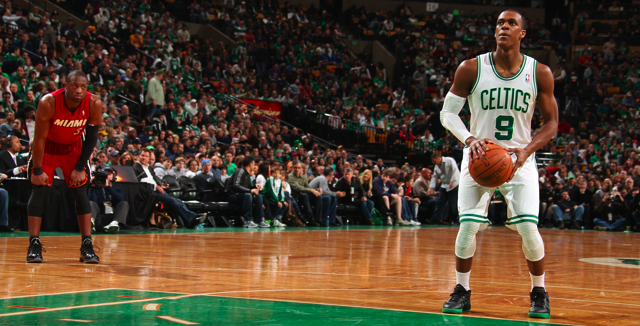 One Big Thing:
Does anyone else get the sense that Game 1 is really, really important in this series? Either way, a tone is getting set. Either the
Heat
make a statement that things have changed and they're ready for the
Celtics
or Boston makes one saying it's more of the status quo.
Heck, package it in even tighter than that. The first
six minutes
of this game could say a whole lot about it. There's going to be a real mental aspect to this series and every little play is going to feel extremely large. I still haven't wrapped my head around this just being the Eastern Conference Semifinals yet.
The X-Factor:
It's
Rajon Rondo
. There's absolutely no doubt about it. Miami has no one to guard him and with him getting his feel and command back against the
Knicks
, Pat Riley and Erik Spoelstra likely haven't slept the last 72 hours. The good Rondo changes every little thing about this series. If he's keyed in, breaking down the Miami defense and distributing, it's hard to see how the Heat can guard Boston for 48 minutes.
The Adjustment:
Would Spoelstra dare get creative with his matchups?
Mario Chalmers
was good in Game 5 for the Heat, but could we see a lot of
Dwyane Wade
on Rondo? Of course now you've got to account for
Ray Allen
, but I get the feeling
Mike Bibby
and Chalmers have a better chance chasing Allen off screens than they do slowing Rondo off the dribble.
The Sticking Point:
The season series tilted 3-1 in Boston's favor with the one Miami win coming when Rondo was in his post-Perk funk and the Celtics slipping a bit as a team. Hard to really take too much from that. Except maybe that the Heat built some confidence. I mean, remember at All-Star Weekend when
James Jones
beat Ray Allen and
Paul Pierce
in the 3-point contest and said, "We finally beat you guys in
something.
" To that point, the Celtics were in their heads. Maybe just that simple regular season win has removed some of that doubt.
The Celtics conceded home court in this series with a poor finish. Not that Miami has a great advantage there (Fan Up, amirite?) but still, it's called "advantage" for a reason. Starting at home fresh off that win could be a big thing for the Heat. And with this first game, the first six minutes, heck the first
possession
being big, that could be the edge the Heat need to get started right.