Memphis Grizzlies do the unbelievable, knock off the 1 Seed Spurs in Game 6. Here are grades for the series.
Posted by Matt Moore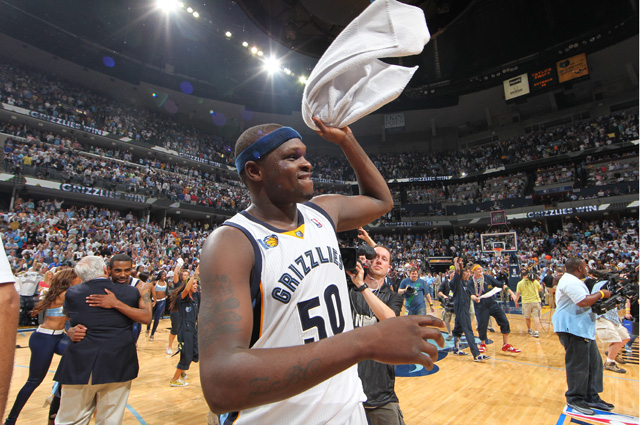 Memphis Grizzlies:
Zach Randolph:
Sometimes your guy is just better than the other guys' guy. Zach Randolph has been the model of consistency his entire career in terms of statistical production. But never has the change he underwent when he became part of Memphis been on showcase like it was in Game 6. 17 fourth-quarter points, and clutch basket after clutch basket. His decision making has been phenomenally better in terms of understanding when to take his man off the dribble or in the post and when to reset or repost. He was simply unstoppable when the Grizzlies needed him most. The toughest shots in the biggest moments. That's what you rely on your guy for. And when Memphis needed a hero, it was Zach Randolph who stepped up.
Grade: A+
Lionel Hollins:
Hollins is the ultimate players' coach. He's a guy who's been there, who's tried to get that contract you need so badly, who's tried to fight through adversity in the face of perception, who's dealt with the media's criticism. When he says he knows what they're going through, they can believe him. But Hollins showed in the first-round a stunning understanding of adjustments, counter-adjustments, and rotations. He managed to play
Tony Allen
in spots and lineups where he could be effective without trying to do too much. He consistently relied on post-play from his two strongest players. He helped turn
Mike Conley
into a wash vs. Parker. He did things like say "Okay,
Manu Ginobili
, you're going to do your crazy Euro-step stuff and blow past
Shane Battier
? That's fine. We're going to post you and see how you like life in the block." He also constantly attacked
Matt Bonner
as the defensive weakpoint, exposing the soft underbelly of the team's inside play. Hollins out-coached Gregg Popovich. Who saw that coming? Oh, yeah, and a game after they fell in the most gut-wrenching way possible, his team responded in the biggest game in franchise history with confidence and swagger.
Grade: A+
Mike Conley:
Conley was limited by foul trouble in Game 6 and never got in a rhythm. That does not take away from the unbelievable work he did on Parker throughout this series. Conley, who couldn't hang with Parker's penetration, instead attacked his dribble, forcing turnovers. Conley rarely forced his offense too much and trusted his teammates. He was the perfect cog and showed why Chris Wallace looks like a genius all of a sudden for giving him that extension.
Grade: B
Tony Allen:
The "Tony Allen ISO Project" is a house band that starts to play when Allen gets the ball on the perimeter, as Allen believes he can create off the dribble. And it often results in terrible shots and wasted possessions. But without that desperate hero-play, you wouldn't get what makes it all worth it, his stellar defense. Allen is the most active defender in the league, and the pressure he applied on the Spurs' passing lanes was a huge part in creating the turnovers the Grizzlies capitalized on in this series. He fell for Manu's pump-fake time and time again, and still made his presence felt.
Grade: B
Bench:
Darrell Arthur
,
Greivis Vasquez
, Shane Battier,
O.J. Mayo
. Where did these guys come from? The bench stepped up in a big way for Memphis and what was their weakest element has become strong. Arthur in particular made a huge difference in this series.
Grade: A-
Memphis, TN:
Once again showing that if you give small-market fans a chance, they'll respond like nothing in sports.
Grade: A
San Antonio Spurs
Gregg Popovich:
Relying on Matt Bonner. Trusting
Richard Jefferson
early. Not bringing enough help on
Marc Gasol
or Zach Randolph. Failing to attack players in foul trouble. Seriously, letting Matt Bonner on the floor actually happened a lot. Gregg Poppovich is one of the greatest coaches in NBA history. But he was out-coached in this series. He was partially unable to adjust because of the roster he and R.C. Buford helped put together, but he also couldn't get back to the kind of defense that won them four championships. He was just another coach with a great offense undone by better defense.
Grade: D
Manu Ginobili:
Ginobili hit some good luck shots. He made some big plays. But he didn't have the extra gear he needed, and when it came down to it, twice in four games he made crucial poor decisions which ended his team's comeback chances. His lack of poise in calling a timeout in Game 3 and a panicked cross-court jump-pass turnover in Game 6 sealed Memphis' fate. Whether his elbow injury was legitimate or not, Ginobili was not the Manu of old. Had he been, the Spurs may not be headed home.
Grade: C+
Matt Bonner:
If you have a player on the floor who the offense specifically attacks on nearly every possession and nearly every possession results in either points or a desperation foul to avoid points? Maybe, just maybe, that guy's offense isn't worth keeping him on the floor. Matt Bonner is used to wide-open catch-and-shoot 3-pointers. Instead the Grizzlies constantly ran him off and disrupted the passing lanes to interupt the pass and catch. Then on defense, the Grizzlies posted Bonner every time. Bonner is too much of a defensive liability to remain on the floor. Darrel Arthur's athletic plays? Bonner'd. Arthur's mid-range jumpers? Bonner'd. Randolph with easy slip-ins? Bonner'd. Marc Gasol drawing foul after foul to put Memphis in the bonus early? Bonner'd. The Spurs Bonner'd themselves. The Spurs used to rely on veteran tough guys like
Michael Finley
, Bruce Bowen, and
Robert Horry
. Now they rely on Matt Bonner.
Grade: D
Gary Neal:
Showed a lot of promise and huge onions as a rookie, including a game-saving 3 to force it to a sixth game. Neal showed an impressive poise and clutch shooting the Spurs lacked.
Grade: B
Antonio McDyess:
Injured. Overmatched. Desperate. Antonio McDyess kept fighting. The saddest part of the fall of the Spurs is this classy, reliable veteran won't get the ring he's worked so hard for. He did everything he could against Randolph. There wasn't anything anyone could do.
Grade: A-
Tim Duncan:
Let's just ignore what happened so we don't have to deal with our own mortality, shall we?
Grade: Incomplete