Posted by Royce Young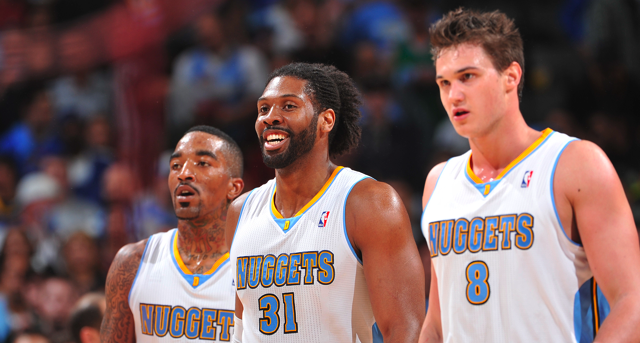 After the
Nuggets
' season wrapped up with a 100-97 Game 5 loss to Oklahoma City, George Karl summed up his team's whirlwind season pretty simply.
"I'm proud to be a part of what they've done. It's going to be hard to swallow but I think we have a bright future and a bright energy coming out of Denver and through a year that had many, many faces," he said. "We will, somewhere in the next week or so, wake up and realize we had one hell of a season.''
But that energy and future has a number of questions surrounding it. As much transition as the Nuggets' roster went through during the season, it may face a similar fate this offseason.
Wilson Chandler
is a restricted free agent. So is
Arron Afflalo
. Nene has an early termination option that he's hinted towards exercising.
Kenyon Martin
and
J.R. Smith
are both unrestricted free agents, with Smith already talking about going elsewhere.
Most of the Nuggets' core that built such a promising future and so much excitement, could be somewhere else next year. Chandler was
asked postgame by The Denver Post about his future
.
"I have no idea," Chandler said. "I'm just going to wait it out and see what happens. ... I just focus on now. I can't control the future."
Chandler struggled mightily in the postseasno going just 7-28 from the field in Denver's five games. He had played really well in Denver down the stretch, but his stinker in the playoffs may have cost him a bigger offer this summer.
Smith was asked again about his future in Denver and he
didn't back off his previous statement.
"Right now, I don't know (about returning to Denver). I still got to weigh some options and see what happens," he said
. "Yeah, I feel better [about re-signing with the Nuggets]." Smith has had a bunch of up and down moments with the Nuggets, always remaining on a short leash from George Karl. A talented, versatile player that just never has been able to keep it together mentally, he'll find someone that wants him though.
Martin:
"Yeah I don't want to leave. But it's out of my control right now So we'll see."
If Martin intends to stay in Denver, he's going to have to take a cut. He made $16.5 million this season and there's no way he sees that kind of cash again. He's aging and has battled a number of injuries lately. He's an important piece and someone definitely worth keeping, but only if the money works.
And then of course, the big one -- Nene. The Denver big man has definitely made it appear that he'll exercise that ETO and explore the free agent market. If he does, he'll command a hefty price tag. At just 27, he's settling in as one of the league's top big men and is an All-Star caliber center. Those kinds of guys tend to get paid. So general manager Masai Ujiri will have to make the call as to if Nene is something worth making the centerpiece of the organization. Nene is going to want star money. It's up to Denver to give it to him.
Most felt when Denver made the
Carmelo Anthony
deal it was all about cap flexibility and rebuilding. Then this roster played really well together. I don't know if that's what Ujiri expected but he's definitely re-evaluating what to do with it now. He has a chance to open up some cap space. Or he can keep most of the core intact. An interesting question.
Like George Karl said, sometime these guys will wake up and realize they had a great season. There is a great future coming out of Denver. It's just a little uncertain at this point.