The Dallas Mavericks have their first chance to close out the Portland Trail Blazers on Thursday during Game 6. Posted by Ben Golliver.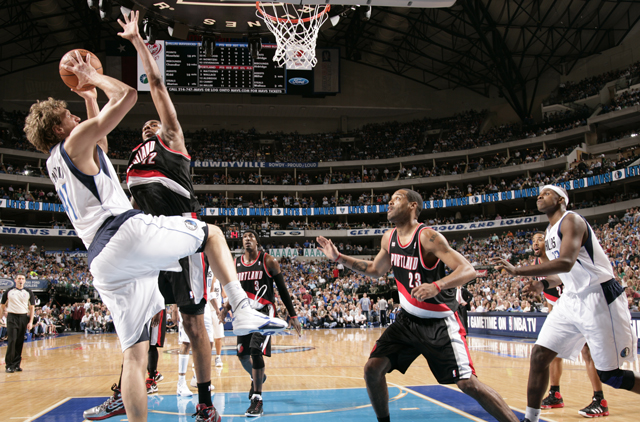 One Big Thing:
The Dallas Mavericks, up 3-2 over the Blazers in the series, look to be in full command. The last time we said that, though,
Brandon Roy
turned everything upside down by exploding for a miraculous fourth quarter in Game 4. Portland doesn't necessarily need another miracle, some consistent scoring from the backcourt would do just fine. Dallas, meanwhile, has been efficient offensively this series, even if it hasn't led to huge point totals, but it must find a way to get to the free throw line on the road. Their Game 3 effort (23 attempts) was much better than Game 4 (10 attempts).
DallasNews.com notes
that the Mavericks are 1-9 in Game 6s and 0-5 on the road. Continuing to contain Portland's backcourt while also getting to the free throw line is a solid formula for putting a dent in those numbers.
The X-Factor:
The Blazers' offense has been anemic all series, cracking 90 points just once in five tries and shooting 25% or less from three-point land three times in the five games. The long ball, and the offensive balance it provides, is key: Portland's offense produced 97 points and looked best when guard
Wesley Matthews
caught fire early in Game 3. Blazers forward
LaMarcus Aldridge
is seeing increasing amounts of attention inside -- with his scoring production dipping every game so far -- and someone must step up to stretch the defense or it will be another long night. The candidates: Matthews, Roy, guard
Rudy Fernandez
and forward
Nicolas Batum
.
The Adjustment:
The Mavericks haven't received enough praise for their ability to make the necessary defensive adjustments in this series. They've mostly shut down Portland's famous lob plays to Aldridge. They've crowded and frustrated Roy into a 2-7 shooting night in Game 5 following his Game 4 explosion. They've succeeded in containing
Gerald Wallace
throughout the series, more or less. The final necessary adjustment isn't about Xs and Os, it's more mental: they need to seal the deal on the road. To do that, the Mavericks need to protect the ball. Portland is now 9-0 in its last nine home games against Western Conference playoff opponents, winning the turnover differential battle by an average of 6.4 in those games. That's an astounding number, and it speaks to the Rose Garden's ability to rattle opponents and Portland's ability to step up its defense at home. Dallas was -7 in Game 3 and -4 in Game 4 on turnovers. They'll need to cut down on some of the sloppy, unforced errors if they way to erase the Blazers' dominant homecourt advantage.
The Sticking Point:
We're just five games into the playoffs but Portland has already done its fair share of public complaining. Coach Nate McMillan questioned the officiating after Game 1. Aldridge has made mention of his fatigue multiple times. Matthews and guard Patty Mills took exception to a hard screen by
Brian Cardinal
during garbage time in Game 4. Aside from Roy's rally, the Blazers have appeared to be a very disjointed bunch on the court, and the talk off the court has given off the impression that perhaps they've bitten off more than they can chew mentally. Dallas, meanwhile, withstood the emotional Roy rollercoaster to dominate at home in Game 5. Portland has banded together multiple times this season -- in the wake of injuries to Roy and center
Greg Oden
, some early season road struggles, after the midseason trade for Gerald Wallace -- and they'll need to do it one more time if they hope to stave off elimination.