There are times in sports when you wonder what the line is between fate and luck. Manu Ginobili's improbable step-back and Gary Neal's desperation 3-pointer make up one of those times.
Posted by Matt Moore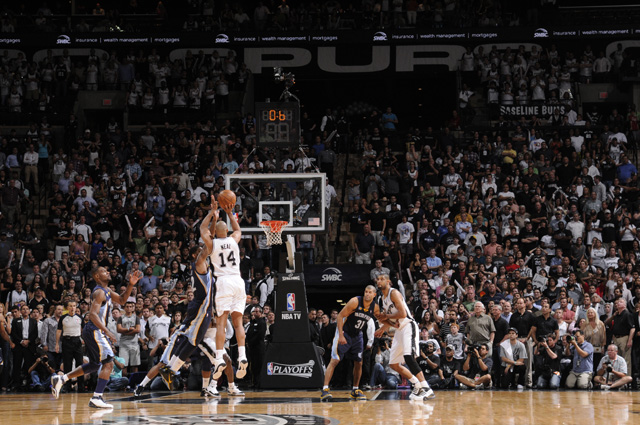 O-Ren Ishii: "You didn't think it was going to be that easy, did you?"

Beatrix Kiddo: "You know, for a second there, I kinda did."

- "Kill Bill"
"I don't think we showed the heart of a champion. We got lucky."

-Manu Ginobili via Chris Vernon on Twitter
What's the difference between luck and fate? What separates grit, will, determination, and the ability to make the biggest plays from abject desperation and the right bounce at the right time? How do you define what's true greatness and what's the unpredictable flow of random events? The lens of sports is such an infinitely trivial window trough which to view such things, but after
Grizzlies
-Spurs 5, the most wild game of the most unpredictable series in the 2011 NBA playoffs, those are questions that have to be running through the mind of everyone who has borne witness to what happened in San Antonio, Texas.
The scene:
The 4-time champions were up against the ropes, and up against an upstart 8th seed who has dominated what feels like at least 16 of the 20 quarters played. Down three points after a flurry of clutch free throws from
Zach Randolph
; the redeemed All-Star for a small-market franchise. A tipped ball. Another tipped ball. And then, of course, Ginobili.
There was an inbounds pass. It was tipped up in the air. It was tipped again. It landed in Ginobili's hands. A desperation heave, good. The tip goes any other direction, the game is over. The ball isn't tipped, the Grizzlies may be in position to defend the shot, and the game may be over. But it winds up there. And Ginobili hits it. Afterwards, after what happened later, he's the deferential. He admits it was luck. But was it? How many times have we seen him hit that kind of shot? I've kept track in this series. Ginobili has hit four 3-pointers off of broken plays. Does that invalidate them? The opposite. How big is it when you can make a non-possession into a 3-pointer? How much can that change a series that has seen three of the five games decided by five points or less (not including the overtime period in Game 5)? You have to believe that, if that shot wasn't due to Ginobili's undeniable focus and concentration, there was some sort of intervention by whatever you choose to reference as the "Basketball Gods". Random chance? Perhaps. But, if so, then the
Spurs
have a keen way of turning those instances of random chance into points. Maybe that's just "valuing each possession."
But even then, his foot was on the line. It's just a two. Are you kidding me? The Grizzlies have avoided the dagger? All they have to do is hit free throws, deny the 3-pointer, and it's done? How kind can those Basketball Gods be to a franchise that drafted
Hasheem Thabeet
? Z-Bo sinks two free throws. Clutch, from the player so often derided for not being "a winner." Just deny the 3-pointer. That's all that separates Memphis and the proverbial "Shock of the World."
The inbounds, you can deny it to Manu, you can deny it to Parker. But you're going to have to let one of the others get free. Gary Neal? Sure. The undrafted rookie the Spurs picked up in Europe and really decided to keep in Summer League? Sure. He can have it.
O.J. Mayo
will contest, but from that distance, with the series on the line? There's no way. There's just no way.
Buckets. Onions. Glory. Pain. The whole thing. Sports.
In overtime, and the Grizzlies had no legs. There's nothing left. Parker does his damage. The Grizzlies fight back, but not enough defense. The shots fell, and that's what happens. Spurs win. 3-2, going back to Memphis, and all the pressure is on the Grizzlies now. Lose in Game 6, and that feeling, the one where it was so close they could taste it when the ball was tipped on the Ginobili possession? It's going to be the opposite. The knowledge that it's all slipping away. The Grizzlies have fought through being the underdog. They've fought through being without homecourt advantage. They've fought through being down 16 in a desperation elimination game for the opponent, on that team's home floor.
But can they fight the Basketball Gods?
At some point you recognize that things fall into place for teams, in part because of those random chances, and in part because of that team's determination to seize the moment provided. It wasn't that Memphis didn't seize them. It's simply that the Spurs were granted them.
In the larger scheme of things, this was simply a Game 5 between a perennial power and an upstart trying to establish some sense of legitimacy. The veteran team executed down the stretch, by hook or by crook. But you still have to wonder, where is that line between fate and luck, and how, in the name of Naishmith's
Nets
, did that just happen?
Game 6 is Friday, in Memphis.