The New York Knicks are reportedly on the verge of re-signing president Donnie Walsh. Posted by Ben Golliver.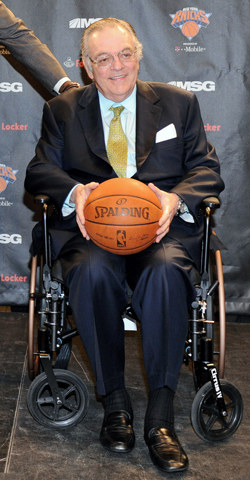 On Monday,
CBSSports.com's Ken Berger reported
that the New York Knicks were considering a two-year extension for president Donnie Walsh, with an announcement coming shortly.
On Wednesday, that talk continues, as the
New York Post reported
that Knicks owner James Dolan is "on the verge" of announcing that Walsh will be retained.
Knicks owner James Dolan is on the verge of announcing Donnie Walsh will be back as Knicks president for next season with an agreement all but sealed, according to multiple sources. One league source said it could be a done deal by this week.
"Jim really wants him back and the only issue left is Donnie getting assurances he's in charge of the basketball operations," the league source said.
According to sources, Walsh had become concerned about the increasing influence of some of Dolan's MSG lieutenants regarding basketball matters. Walsh had taken the job three years ago with the promise he would be the head of basketball operations.
The New York Times also reported
Wednesday that an extension is coming in the short term.
Walsh and Dolan are expected to meet within the next few days, according to several people with ties to the team, all of whom asked for anonymity to protect their relationships. All expressed confidence that Walsh would be back, probably with a two-year contract extension.
Money is not an issue, nor is Walsh's health or his enthusiasm for the job.
Walsh led the Knicks back to the playoffs for the first time since 2003-2004, signing free agent All-Star forward
Amar'e Stoudemire
last summer and trading for All-Star forward
Carmelo Anthony
days before this season's trade deadline.
The Knicks were swept out of the first round by the Boston
Celtics
over the weekend.
As noted this weekend
, retaining Walsh is a no-brainer given the substantial progress made under his leadership.