Posted by Royce Young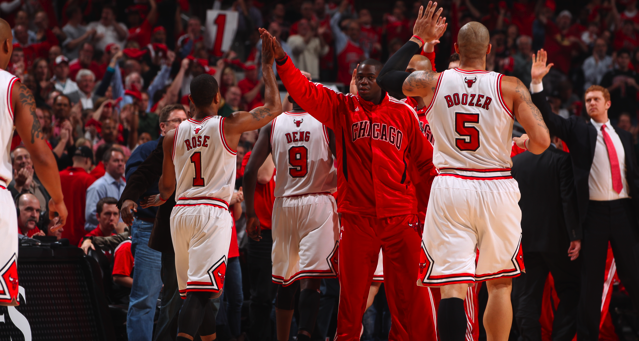 CHICAGO Bulls
Derrick Rose:
It was a bit of an up and down series for Rose. If you just gloss over the boxscore numbers, it looks like he did pretty well (28.3 points and 6.3 assists per game). But spanning Games 3 and 4, Rose really struggled shooting the ball (35 percent for the series). A bit too often, he settled for the 3 (over seven a game), and didn't really command the game the way you'd hope a future MVP would.
That said, he was pretty excellent in Game 5 and, overall, played a good series. He's the reason the Bulls got away from the
Pacers
in just five games. He battled through an ankle sprain to play his best game of the series. That said a lot about his toughness, and, behind him, his team finally turned in a solid, complete game of basketball. High marks overall for Rose.

Grade: B+
Tom Thibodeau:
I think, quietly, Thibodeau managed this series extremely well. It was subtle because he didn't deviate much from the regular season plan, but one move I especially took note of was his decision to stick with
Kurt Thomas
in Game 1 down the stretch, instead of going to Carlos Boozer. That added toughness and grit from Thomas ended up landing the Bulls a big offensive rebound to seal the game. Thibodeau didn't push every correct button, but he stayed consistent to the gameplan that worked to win Chicago 62 games this season.
And in his first playoff series, he got out in five games. Not bad.
Grade: A-
The supporting cast:
If you're looking for a word, it's inconsistent.
Luol Deng
was solid, averaging 17.3 ppg in the series.
Joakim Noah
was his usual self.
Kyle Korver
hit some big shots. But overall, Chicago's role players didn't step up consistently the way they did during the regular season.
Taj Gibson
was great in Game 5, but that was really the ony game he had an impact.
Ronnie Brewer
was a non-factor all five games, and
Carlos Boozer
was pretty much a disappointment.
Going forward, they need to be better. And I'm sure they know it.
Grade: C
Overall grade:
There was definitely a good push by the Bulls in Game 5 to raise this mark. They played easily their best game, making shots, rebounding, playing defense and playing together. But, other than that, the other four games were a complete struggle versus the weakest team in the playoff field. I've gone over it ad nauseum, but Chicago was just a couple minutes away from losing an extra game, or two.
Alas, they won in five. A sweep would've been ideal, but it was clear early on that this Pacer team was ready to fight. And they did. Winning is the important part in the postseason, and the East's top seed is advancing unscathed.
Grade: B
INDIANA PACERS
Danny Granger:
Indiana's star was pretty good overall. He hit some big shots, made some big plays and was probably the biggest reason the Pacers stole a game. But he's also a reason they didn't steal at least one more.
Granger's disappearance in crunch time in Games 1 and 2 ultimately doomed their chances of coming out of Chicago with a big win to start the series. That's partially his fault and partially a product of the stellar Bulls defense. He could've been better, but, keep in mind, he did have Luol Deng on him for five games.
Grade: B
Frank Vogel:
Indiana's interim coach earned a job next season in my mind. He had his guys convinced they could win. He talked them up. He had them believing, which is the first job of an underdog coach. The Pacers never wavered and, really, Indiana's gameplan was rock solid throughout.
A few of his rotations were a bit curious and the fact the Pacers seemed to run away from
Roy Hibbert
was odd. But in Vogel's maiden voyage into the postseason, without even the actual head coaching position, he should win himself a new title for next season.
Grade: A
Homecourt advantage:
Down 3-0, I realize some of the excitement and air is let out of your balloon. But to let the enemy fill up half your arena? That's pretty ridiculous. The Pacer fans that were there were loud and did their part, but the ones that sold off to Bulls' fans? Shame.
Grade: D+
Overall grade:
The Pacers were in that great position of not having much expected of them. Winning even a game was seen as a big victory for them. Still, being so close to actually making this a series has to be a bit disappointing. Yes, they were completely overmatched by a more talented team. But a rebound here, a few more free throws or a good stop there and this Game 5 isn't ending their season.
A great effort from them though. You can't fault that. They played the NBA's best regular season team tooth and nail for four games before running out of gas. It was admirable.
Grade: A-