The Dallas Mavericks took a 3-2 series lead by dominating the boards in Game 5 against the Portland Trail Blazers. Posted by Ben Golliver.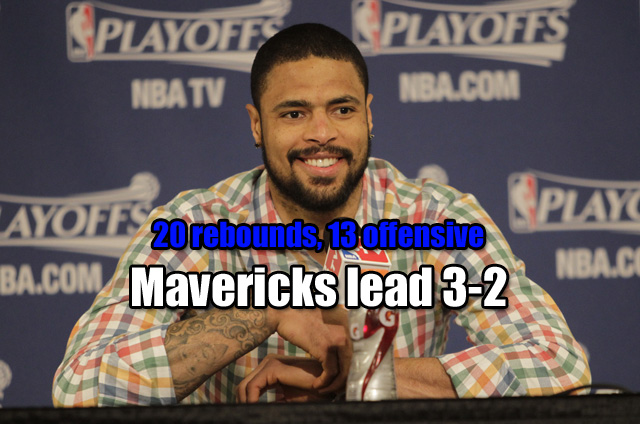 Portland Trail Blazers guard
Brandon Roy
fell back to Earth after back-to-back sterling performances in Games 3 and 4, and his team didn't stand much of a chance in Game 5 against the Dallas Mavericks. While Dallas's two go-to scorers --
Dirk Nowitzki
and
Jason Terry
-- combined for 45 points, Game 5's hero was
Tyson Chandler
.
Entering the series, Chandler and his Portland counterpart,
Marcus Camby
, were viewed as essentially a toss-up. Both players are long, agile defense-first centers who concentrate on rebounding and generally provide scoring only in an auxiliary role. Through four games, Chandler was averaging 4.0 points and 7.5 rebounds with Camby averaging 3.8 points and 10.3 rebounds. Pretty similar, especially considering that Chandler was limited pretty severely by foul trouble in Game 3.
But Game 5 was a totally different beast, as Chandler finished with 14 points and a season-high 20 rebounds, including a whopping 13 offensive boards. (Camby finished with four points and eight rebounds in 20 minutes.) Aside from being an offensive threat by finishing around the rim and getting to the free throw line, Chandler's dominance of the offensive glass saved the Mavericks.
Mavs.com reported
that Chandler's 13 offensive rebounds in a playoff game is the first time that mark has been reached in nearly 16 years; since
Shaquille O'Neal
had 14 way back in May 1995. How did he do it? He had more offensive rebounds than the entire Portland team, which is quite the accomplishment because the Blazers finished
third in offensive rebound rate this season
.
Chandler's big night wouldn't have been possible without some horrific outside shooting by his teammates. The Mavs shot 3-17 (17.6%!) from deep, tying a season-low for made three-pointers. In other words, there were plenty of opportunities.
Besides the prerequisites needed for a big rebounding night -- high energy level and plenty of minutes -- Chandler used his unique skillset to his full advantage. He relied on his rebounding intuition and versatility to track long rebounds off of missed jumpers, clear out to the free throw line in some cases, often batting the balls back to his teammates to extend the possession. He got physical with Portland's lithe bigs when necessary.
Chandler also regularly fed off the home crowd while still playing within himself, careful not to ride too high on his success to the detriment of the team. The fact that he took just four shots -- missing only one -- on his way to 14 points is nearly as remarkable as his rebounding numbers. He resisted the temptation to go to far, to let his numbers go to his head, to do anything except what was needed of him on this night.
Dallas was able to keep the turnover differential even in Game 5 -- a crucial factor in defeating the slow-down, ball-control Blazers -- and they shot 16 more free throws than Portland. Chandler's offensive rebounding helped the Mavericks win the second chance points battle 17-8. Had Chandler's teammates shot better from the field, that margin could have been much, much larger.
In the end, it didn't need to be. Chandler helped the Mavericks dictate their tempo, control the pace of the game, and force Portland to work longer and harder on defense than they are capable of. The result was a win that was even more dominant than the 11-point margin of victory suggests.