CP3 again.
Posted by Matt Moore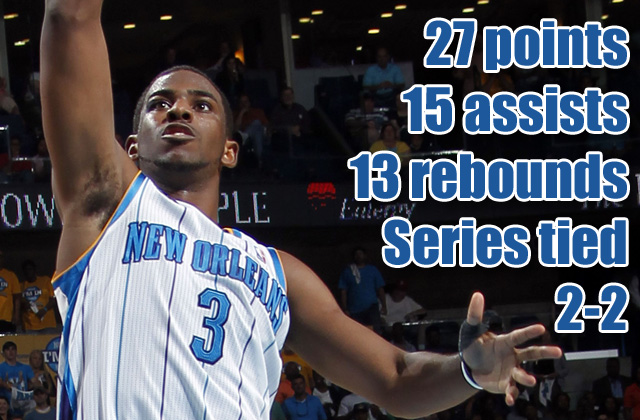 Among the pack of top free agents in the NBA who love to hang with each other, who have shared toasts and fireworks and locker space,
Chris Paul
stands apart.
LeBron James
,
Dwyane Wade
,
Chris Bosh
,
Amar'e Stoudemire
,
Carmelo Anthony
, the list goes on. Those players are friendly. They came into the league at the same time, have the same priorities, the same approach. But Paul, as friendly as he is with those players, is different in one simple regard.
He wants to win more.
This isn't to say that the others don't want to win. These are competitors on the highest level. But there is a gap. The only player that rivals Paul is Wade, the only player among them with a championship ring, a testament to that will. But even Wade has his businesses, the commercials, the distractions with the
Heat
, the culture of branding that he operates in. Again, this isn't an indictment. Wade has proven time and time again, just as James and the rest (no matter what popular sentiment has determined) that he will deliver in the key moments, spend the extra time, fight through the injuries, do what it takes to get a win.
But Paul?
Paul wants it just a
little
bit more.
It's in his DNA. He's arguably the only player in the league with the competitiveness level of
Kobe Bryant
. So to see him slashing, dashing, and breaking Bryant's ankles has a certain level of appropriateness to it, even if the
Lakers
remain a significant favorite to win this series. Paul's history of intensity dates back to college, and the physical lengths he would go to in order to win a game. In the NBA, he's been, when healthy, the consensus best point guard in the league (bearing in mind that
Derrick Rose
is about as far from a pure point as it gets. Rose is his own thing,
Bulls
fans, let's not make everything about Rose, as awesome as he is.). He's also struggled through years with subpar casts, but this year, with the team's future in New Orleans in doubt, he's maintained.
There were questions this season, to be sure. Paul
told Ken Berger that he was looking at longevity
this season, that that was weighing on his mind. It led us to discuss the possibility Paul was holding back for the playoffs.
Yeah, about that.
On Sunday night, Paul dropped a triple-double, his second in four games of this series. Paul joins
Magic
Johnson,
Kevin Garnett
, Mookie Blaylock,
Rajon Rondo
,
Jason Kidd
, and
Baron Davis
in the list of players to drop multiple triple-doubles in one series
. Paul's second half line?
23 points, 7 rebounds, 6 assists
. Are you kidding me? You have to be kidding me. This cannot be real life. This is not reality. This is some mistifying fantasy where a player comes out and does that to the
defending champs.
It was brilliant. It was exceptional.
It was a perfect example of the lengths Paul will go to in order to win.
Trevor Ariza
noted after the game that he had six rebounds. The
Hornets
' big man,
Emeka Okafor
had 6 rebounds. Chris Paul had 13 rebounds, against the tallest and longest frontcourt in the National Basketball Association in a pivotal playoff game where he was also scoring and running the offense. Oh, and he had two steals. There was nothing more you could ask for from Paul. How often do you really get to say that about a player? That you cand identify what he gave as absolutely everything. Put it another way, which isn't really fair, I'll admit off the bat. How often have you really, truly said that about what you felt LeBron James' maximum effort could be.
The Lakers certainly played their part in this. But the effort from Kobe Bryant in Game 3 to slow Paul was unable to overcome CP3 in Game 4. To be fair, a seven nation army couldn't hold Paul back in Game 4. The range-game, the whip-pass, the drive and drop, the floater, it was the entire range. Chris Paul doesn't wind up with exceptional games in February, he saves his best for when his team needs it most. Down 2-1 in front of a desperate crowd on the verge of losing the Hornets as a part of their community, Paul answered. We talk a lot about great players, about what makes a player the kind you remember five, ten, fifteen years after their days are over. CP3's performance Sunday night? It fit that description perfectly.
The Hornets have tied the series with the champs, with
Aaron Gray
and
Carl Landry
as key contributors. Paul has shown once again why he is without question the best pure point in the league. The Lakers may very well advance in the playoffs from this series. But if they do so, they'll have to fight Chris Paul to the very last second to get that fourth win. And even then they'll know what we all know, what we've seen.
Chris Paul just wants it a little bit more.