Derrick Rose to get an MRI after ankle injury, in walking boot at practice.
Posted by Matt Moore and Ben Golliver.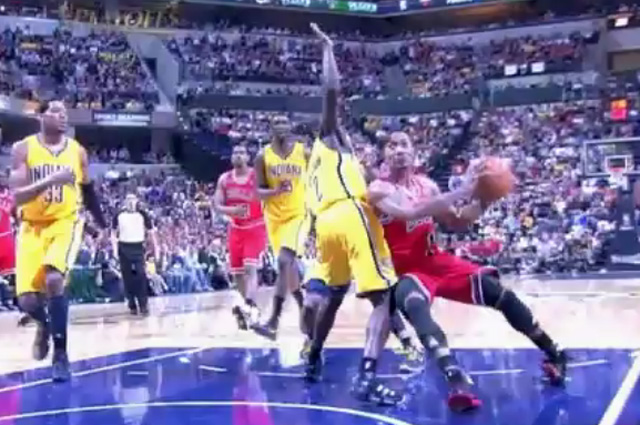 Derrick Rose sprained his ankle in Game 4 versus the
Pacers
on Saturday. On Sunday at practice, Rose didn't participate, and
via ESPN Chicago
, was in a walking boot at practice.
Ruh-roh.
Rose is
getting an MRI this afternoon
, and will be re-evaluated by team doctors after that. Now, the walking boot is likely precautionary. It's not a sign of significant injury, it's usually just used to stabilize the ankle and foot. It's not a good thing, but it's not a terribly bad thing, either. X-Rays
were negative
, which is the biggest concern.
Bulls
coach Tom Thibodeau downplayed the severity of the injury
to the Chicago Tribune
.
"He's fine," Thibodeau said. "He's going to have his ankle checked and hopefully he'll be ready. When we ask him, he says he's fine. (Athletic trainer) Fred (Tedeschi) said he has a little soreness. But Derrick said he's fine. He said the swelling isn't bad."
Assuming, and again, that's an assumption the MRI clears, Rose should be good for Game 5. But the next couple of hours will be tense for Bulls fans. We'll keep you updated on his status.
It should be noted that after the injury, Rose's game went down the tubes, and he was unable to close the game out. He had a huge dunk off a blown
Dahntay Jones
defensive assignment, but his explosion was limited and his jumper was off, moreso than it has been this series. The ankle clearly affected him, even though the Bulls still almost won the game and Rose's key steal and dunk were part of that comeback. It simply should be noted that Rose was not at full capacity after the injury.
Here's video of the injury.