Posted by Matt Moore with special thanks to Ken Berger
You know what I'd do if I were head coach of a team that was down 0-3 in a series and heading in to an elimination game against the defending Eastern Conference champs? I'd question the ability of the point guard who just dropped the second ever 20-assist playoff triple-double on me. Great idea, right? I'd question how he would play were he not surrounded by three Hall of Famers who also happen to be very protective of said enigmatic point guard, and also happen to be very capable of taking out their frustrations on the court. That's what I would do... if I were a masochist.
Mike D'Antoni is said masochist.
From
Ken Berger of CBSSports.com
, live from Madison Square Garden for today's
Knicks
-Celtics Game 4: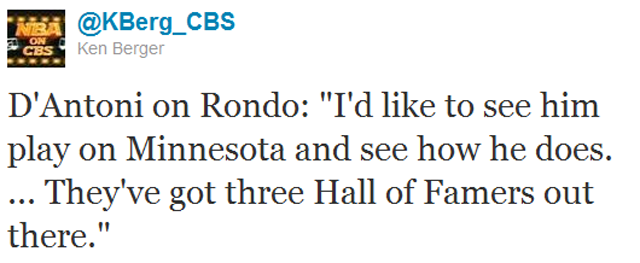 Mike, it isn't like Rondo just had an okay game or series. He didn't just hit a double-double one night to help out his club. This is the guy who dropped 20 assists on you in a triple-double...
twice
! Of the eight times such a feat has been accomplished,
regular season
or
playoffs
, Rondo has done it three times. Two of them have come against New York.
D'Antoni may need to spend more time in the countryside. The expression, "You mess with the bull, you get the horns?" It has a literal meaning which might help him avoid tweaking players who have the proven skillset to totally dismantle his club on the hardwood, and, this time, send them packing into the longest NBA layoff in 12 years.
D'Antoni's point isn't without merit, though. We have never seen Rondo without the three Hall of Famers. Rondo's ball-fake, slip-pass, lightning fast whip passes wouldn't produce as many points if he were slinging to
Michael Beasley
,
Travis Outlaw
,
Sasha Vujacic
,
Donte Greene
, or any of the other casts of the lotto squads. But Rondo's learned so much with his time among the Big 3 that it's not like he'd fall off the cliff. We'll get a chance in a few years to see what Rondo looks like when he's the best player on the team from a career perspective, and whether that translates to the same kind of success he's had among the greats in Boston.
D'Antoni did tell reporters, "But Rondo's a very, very good basketball player. Really good. There's no doubt about that." But does he think that part of the quote is what's going to get put on the bulletin board in the
Celtics
' locker room, or pasted on highlight reels before clips of Game 4? D'Antoni's greater philosophical point may be worth examination, but within the context of the series, and in its timing, it was a poor decision.
Horns, Mike. Horns.