Posted by Royce Young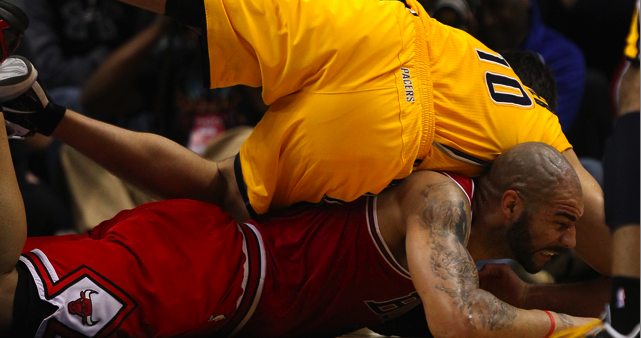 Despite the loss on Saturday, the
Bulls
still lead their opening round series over Indiana 3-1, and will most likely close things out Tuesday in Chicago. Losing is never fun, but the
Pacers
stealing a game at home isn't really anything to panic over.
But here's a little something to at least re-adjust your collar over: The Bulls haven't played one good game yet in the playoffs. Again, they're 3-1. That's good. They're going to advance. That's good. But if you made both teams go shirts and skins and you didn't know
Derrick Rose
from Derrick Coleman, I'm not sure you would be able to pick out who the 37-win team is and who the 62-win one is.
The Bulls have shot under 40 percent in three of the four games. In the last two, Rose is just 10-40 (25 percent).
Carlos Boozer
has yet to really have one good, complete game.
Luol Deng
is the same. Same for
Kyle Korver
off the bench. Honestly, I can't tell you one player that has definitely played well all four games.
Again, no reason to completely panic. The playoffs are tough. Teams don't want to lose. The Bulls are adjusting to that and they've taken care of the most important part -- they've won. Still, the idea is that you're playing your very best basketball during the postseason. Chicago's defense hasn't really missed a beat, but if they play this way again Boston, or Miami, they're not moving on.
Either someone else has to step up with a couple key buckets -- i.e. Korver -- or Rose has to play wonderfully -- i.e. Games 1 and 2. That's the position the Bulls have put themselves in so far in this series versus the Pacers. Maybe it's actually a good thing they get another shot to work some of this stuff out before it gets serious against either Atlanta or Orlando.
Because if you take even the best of these four games and translate it into a series against the
Magic
,
Hawks
,
Celtics
or
Heat
and I don't think Chicago is winning. I'd say their best performance was probably Game 2, and even then they shot under 40 percent and won because of the free throw line and offensive rebounding.
The Bulls have never claimed to win pretty. They've never really done a lot more than just play excellent defense. Again, though, to put yourself in the position to expect a perfect game from Rose isn't a model for success in the playoffs. It's not just about someone else stepping up. It's about playing better, period.
This Chicago team came in with the best regular season record in basketball and aspirations to maybe even win an NBA title. The Chicago team that has played four games against the Pacers isn't doing that, and probably wouldn't see the Eastern Finals.
It's way, way too early to come to any conclusions based on this series with the Pacers, because the Bulls will likely take care of things in five. And, it's better to get the bad play out against a lesser opponent. But, I promise you, Tom Thibodeau is a bit anxious. You can just keep saying they'll snap out of it, but the road to glory isn't easy and it gets far tougher the more difficult you make it on yourself.