The Los Angeles Lakers defeated the New Orleans Hornets on Friday night to take a 2-1 series lead and regain home court advantage. Posted by Ben Golliver.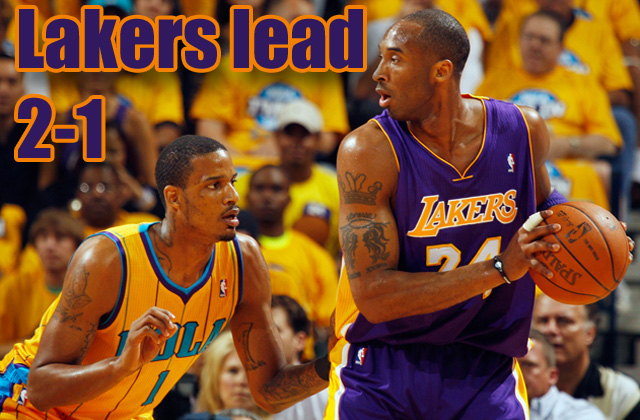 The Los Angeles Lakers defeated the New Orleans Hornets, 100-86, in a Friday night game that played out exactly like pre-series expectations dictated. On offense and defense, both teams played according to form ... bad news for the plucky Hornets who must play way over their heads to keep up with the Lakers.
Lakers Offense
In
Friday's Series Reset
, we made the fairly obvious prediction that Lakers All-Star guard
Kobe Bryant
would make a major return to form after an off-night in Game 2. It happened. Bryant scored 30 points on 10-20 shooting, soloing a bit too much, but still hitting a wide variety of circus shots and more than half of his three-point attempts.
Trevor Ariza
put up a game fight, but Bryant got where he needed to get, including the free throw line, where he hit a number of second half shots that helped stave off any late Hornets push.
Pau Gasol
got off to a bit of a slow start but he fought through the war of attrition, tallying 17 points and 10 rebounds and surprising everyone in the building by knocking down a corner three. The force of his fist pump afterwards revealed the level of frustration he'd been feeling throughout the series to this point. More than anything, Gasol just out-worked his struggles. He hit the glass hard, especially on the offensive end, and played a nice two-man game with
Andrew Bynum
, who was also a force with 14 points and 11 rebounds.
Hornets Offense
There's nothing here for them to hang their heads about, but the non-existent bench did them in once again. In the reset, we talked about the importance of either
Willie Green
or
Jarrett Jack
stepping up. The pair combined for two points on 1-10 shooting. The Hornets' starters simply can't play five-on-eight against the deeper Lakers.
Meanwhile,
Chris Paul
was very good, but not otherworldly. And, in this series, very good simply won't cut it. His 22 points, eight assists and five rebounds made life easier for everyone around him, but all five Hornets starters finished at -10 or less for the game while all five Lakers starters finished +11 or greater. That's a fairly straightforward butt-kicking, and it was one that Paul, who was paid plenty of attention again, was hopeless to overcome.
Lakers Defense
L.A. did a nice job of containing Paul again, but more than anything they simply played a fundamentally sound strategic game. They didn't allow the Hornets out in transition for easy baskets. They did a decide job of clearing the defensive glass.
And, most importantly, they took their chances with the Hornets' role players beating them from outside. The Hornets are merely an average three-point shooting team, and the 1-7 from deep by
Marco Belinelli
killed New Orleans' offensive efficiency. No one else really tried to bomb from deep.
Hornets Defense
As in Game 2,
Emeka Okafor
and
Carl Landry
tried to stand up to the Lakers' bigs, but with little effect. The Okafor/Landry pair actually outscored Bynum/Gasol, 38-31, boosted in part by Landry's 11-12 from the free throw line. The numbers are a bit deceptive, though, as
Lamar Odom
chipped in 13 points and the Lakers' bigs combined to shoot 17-32 despite Gasol's early struggles.
Bynum was a wrecking ball early, scoring around the rim at will and tossing in a beauty of a lefty jump hook. He had 12 points in the first 18 minutes, and that was pretty much that.
L.A.'s length and depth, along with Bryant's attack, made the difference on Friday night. In other words, the Lakers firmly restored order after slipping up in Game 1.