The Knicks were routed out of the Garden by Four Horsemen that doomed them to an 0-3 deficit.
Posted by Matt Moore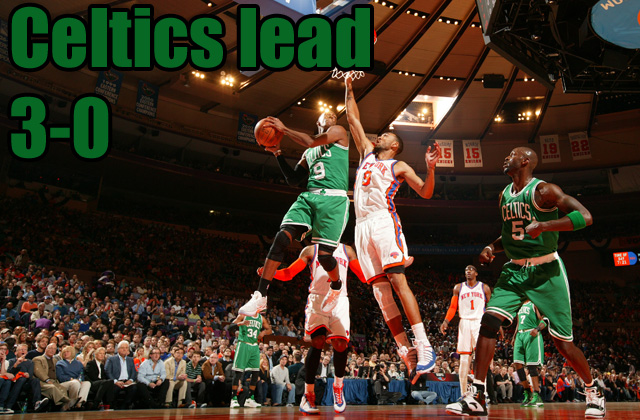 You had to expect this. A raucous home crowd thinking the first two games were close enough to support a win for the hometown boys in their own house. Over-performance from a super-thin Knicks roster in Games 1 and 2, with some top-heavy help from the stars who the
Celtics
would work to figure out. Sloppy play from the Celtics to wake themselves up, even after a win. And then, you know, this reality.
The Boston Celtics
are much better
than the New York Knicks.
In the Celtics' outright dismantling of the Knicks, the Celtics rode in like it was Revelations and they were brining the end of the world to Knicks fans. There were four factors that really led to this beatdown. Here then are the four horsemen of the Knickocalypse.
More on Celtics at Knicks
Related links
1. Pestilence:
The Celtics had 20 turnovers, which is a huge amount. But almost none of them hurt them. Know how many fast break points the Knicks, a Mike D'Antoni team, had? 10, on 4-8 shooting. The Knicks had 18 turnovers, which the Celtics used to help convert 8-12 fast break opportunities into 23 points. The Celtics turnovers were on account of trying to do too much, being too confident, moving too quickly. The Knicks' turnovers were on account of sloppiness, dribbling into double teams, throwing terrible passes, freezing movement, and working right into Boston's hands. The Celtics' defense made the Knicks' offense sick to its stomach by closing off lanes and pressuring the Knicks' terrible, and I mean
terrible,
ball-handlers. But the Knicks also vomited on themselves time and time again with lazy, unfocused and unprepared play.
2. Famine:
James Dolan should buy himself a beer tonight. It was his bungling of the Melo trade that left the Knicks with such a wretched supporting cast and their bench starving for talent.
Jared Jeffries
played exceptionally well in Game 2, and still managed to lose the game on consecutive possessions. In Game 3, there was no such upside. Jeffries blew easy passes underneath. He was slow to rotate, got lost repeatedly, and failed to execute with any clear purpose. And he had a much better game than
Ronny Turiaf
. Not only didn't Turiaf do all of those things, but he got completely manhandled down low. The Celtics' reserves were just as bad, and as D'Antoni kept trying to send different lineups, trying to find a spark, the gap in talent was pretty obvious.
Then there was
Toney Douglas
. This should have been his opportunity to shine. With Billups out another game, building off of Game 2, with a home crowd, the situation was ripe for him to make an impact. His line's not bad. 15-3-3. But Douglas also failed to recognize
Amar'e Stoudemire
, the giant power forward with insane leaping ability who's the star of his team, slashing towards the basket on multiple fast breaks. He repeatedly froze fast breaks instead of pushing. Which is really what you want to do when you're running a D'Antoni offense. Slow it down. The Celtics actually dislike fast break teams quite a bit. That being the case, they loved Douglas tonight, because let them keep everything in front of them, nice and settled.
3. War:
The Celtics' defense wasn't everywhere it should have been in Games 1 and 2. It was omnipresent in Game 3. Particularly at the rim. The same principles which have led the Celtics to two finals appearances in three years were in play.
Carmelo Anthony
was challenged on the perimeter tight by
Paul Pierce
and others, electing to force him into the drive. When he drove, he was met outside of the paint with multiple defenders creating a wall. Melo's runners bounced off backboard, and contrary the games in Boston, the Celtics came to hit the glass. Boston allowed only a 29 percent offensive rebound rate to the Knicks after allowing over 40 percent to be snagged by New York in both games in Beantown. The formula's simple. Pressure, attack, communicate, help, choke off the offense and get the rebound. The Celtics are defined by those principles, and they were in full effect Friday night.
On offense, the Celtics came in and raided the Garden, especially from the perimeter.
Ray Allen
had a bombardment of 3-pointers, in classic form. The Knicks' defense was abysmal, don't get me wrong. But those offensive rebounds came into play. Boston had a 38 percent offensive rebounding rate on their own. That lead to second chance opportunities, which created a scrambling Knicks defense out of position, at which point Allen calmly slipped to a corner and nailed three after three. Most of it was a lack of communication and poor defensive principles by the Knicks, but Boston also calmly executed over and over again. Paul Pierce, who came in 1-10 in ISO situations in this series, was dominant. He and Allen combined for
70 points
between the two of them. Pierce had everything going -- the jumper was crazy wet. Check out their
shot charts from GameTracker
.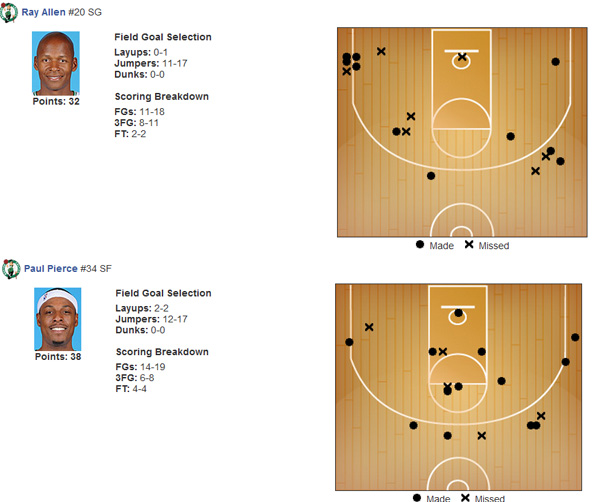 23-34 on jumpers. That's pretty much insane. It was a prolific performance from two Hall of Famers. The embers from the
Nets
at the Garden are still burning.
4. Death, thy name is Rajon Rondo.
15 points, 11 rebounds,
20
assists. The first 20-assist triple-double since
Magic
Johnson in 1991. Those offensive rebounds that lead to those threes? Six of them for Rondo. The floater, the mid-range, and dish, after dish, after dish. The Celtics were on a whole different level than the Knicks tonight. Rondo was on a level beyond that. He was so good his teammates couldn't keep up at points. Rondo was dribbling between his legs and behind his back on the baseline after offensive rebounds. It was as brilliant of a pure-point performance as you'll see in the league. The Rajon Rondo from the beginning of the season is most definitely back.
The Knicks could have defended better. They could have rebounded better. They could have passed, shot, played better. But with Rajon Rondo owning the game in the way he did, it's hard to see that there was much this Knicks roster could do. The one from earlier in the season, with more depth, more versatility, and more chemistry? Maybe. But this one was simply overwhelmed by the horsemen.
The end may come on Sunday.